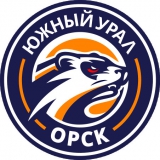 Yuzhny Ural Orsk
Name in original language: Южный Урал Орск
Year of foundation: 1958
Colours: white, Prussian blue
Club status: active
Address: ul. Stanislavsky, 54
462419 Orenburg region., Orsk

Phone: +7 (3537) 25-37-59
Fax: +7 (3537) 25-33-42
Email: orskhockey@mail.ru
WWW: Yuzhny Ural Orsk
Did you find any incorrect or incomplete information? Please, let us know.
Season 2022-2023
This club in 2022-2023: VHL
Current roster
season 2022-2023
* no longer in the club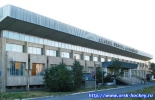 Adress: ul. Stanislavsky, 54
462419 Orenburg region., Orsk
Phone: +7 (3537) 25-33-42
Capacity: 4588
Opened in: 1985
Notable players:

from 1958 to 1961: Komanda Orska
from 1961 to 1962: Trud Orsk
from 1962 to 1964: Yuzhuralmash Orsk
from 1964 to 1999: Yuzhny Ural Orsk
from 1999 to 2006: NOSTA Yuzhny Novotroisk-Orsk
from 2006 to present: Yuzhny Ural Orsk
from 2010 to 2017: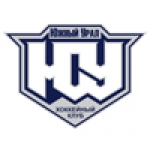 from 2017 to present: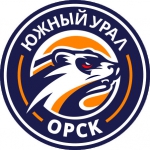 Pavel Kruty passed away
Forward Pavel Kruty died in Orsk today, as reported by the VHL official website. He was 23 years old.
In the morning, Pavel Kruty, who was at the training camp of the Yuzhny Ural Orsk, felt unwell. He was given first aid by the club doctor. The player was taken by an ambulance to the intensive care unit, where he died. A preliminary diagnosis is pulmonary embolism.
Last season Pavel Kruty played for Saryarka Karaganda and recently moved to Yuzhny Ural Orsk. He played also for KRS Heilongjiang and Amur Tigers Khabarovsk, In 1997 was named to MHL All-Star Game
(10 Jul 2020)
Movements of coaches in VHL
Two VHL teams announced changes in coaching staff:
Yermak Angarsk appointed 53-years-old Igor Zhlinsky as new head coach after the dismissal of Sergei Dushkin and the five-games interim period of Aleksei Isakov.
Ruslan Suleymanov resigned from headcoach position of Yuzhny Ural Orsk citing family reasons. Evgeny Zinoviev will act as interim coach until a replacement is found
(07 Nov 2016)
Yuzhny Ural Orsk fires coach
Andrei Martemiyanov has resigned from the position of headcoach at Yuzhny Ural Orsk after seven games and just one victory in regulation time. Former captain and current hockey school coach Vitaly Kazarin was appointed as interim coach.
"Of course the start of the championship wasn't satisfactory. When the team arrived in Orsk, we met with the coach, talks and take a mutual decision to terminate the contract" said Minister of Regional Sports Oleg Pivunov
(05 Oct 2015)
Andrei Kirdyashov resigned from Yuzhny Ural Orsk
After failing to qualify for the post-season - team finished 18th out of 24 - Andrei Kirdyashov resigned from his post of headcoach at Yuzhny Ural Orsk where he arrived in December 2013.
(25 Feb 2015)
New coach at Ural Orsk
Andrei Kirdyashov was appointed as new headcoach at Yuzhny Ural Orsk, replacing Anatoli Chistyakov, resigned on November 28. Kirdyashov lead Sary Arka Karaganda to playoffs finals last season and previously was on Yuzhny Ural Orsk from 2008 to 2010
(29 Nov 2013)
Sary Arka announces new coach
VHL silver medallist Sary Arka Karaganda announces the appointment of Evgeny Zinoviev as new head-coach.
Zinoviev, 47, worked at Yuzhny Ural Orsk in past years
(15 May 2013)
New coach at Yuzhny Ural Orsk
Yuzhny Ural Orsk announces former Avtomobilist Yekaterinburg assistant coach Anatoly Chistyakov as new headcoach.
"Orsk provides excellent conditions for the coach and players. My first main task for the off-season is to get acquainted with his new team and to strengthen the composition. I want to work for the benefit of the Orsk hockey and develop myself as a coach." said Chistyakov in the first press-conference
(21 Apr 2013)
Historic rosters:
Historic statistics:
Past results:
League standings:
Fast facts
season 2022-2023
Yuzhny Ural Orsk participates in season 2022-2023: VHL
Cardiff Devils won by one-goal-difference against home side Grenoble and advances to the Continental Cup Superfinals along with Nomad Astana Read more»
Kazakh champion closes the Continental Cup semifinals round with a perfect record, by beating HK Zemgale in the last game Read more»