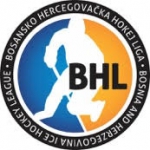 BHHL
League status: Active
English name: Bosnia & Herzegovina hockey league
Administered by: Bosnia Ice Hockey Federation
Year of start: 2002
WWW: http://www.hsbih.ba/
Did you find any incorrect or incomplete information? Please, let us know.
Last updated: 11 Jul 2015, 12:36
45 minutes (3x15) with no stopping clock, slap shot and contact on boards, no open ice contact is allowed. Only 7-15 players can play for one team.
All games played in Zetra Olympic ice hall.
Ten games for each team before final series in which enter the two best team from regular season.
from 2009 to 2011: BH Liga
from 2011 to present: BHHL
The first season of the league was held in 2002-03, with four teams. After the season 3 teams simply were not able to remain active. With their demise, the league went into a hiatus for 6 years until the 2009-10 season.
The league is strictly amateur at this time with a low/developmental level of play with no body checking
Past league results:
League standings:
Historic statistic:
Individuals records:
Fast facts
season 2014-2015
After 20 years Winter Olympics are back in Italy. IOC assigned today the organization to Milan-Cortina Read more»
The former Pan-American Tournament will host the international debut for Jamaica and Puerto Rico in September Read more»