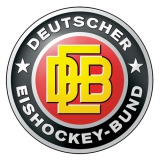 Germany
Year of foundation: 1909
Colours: black, yellow, white, red
Club status: active
Address: Deutscher Eishockey Bund
Betzenweg 34
81247 München
Germany
Phone: +49 89 81 82 0
Fax: +49 89 81 82 36
Email: info@deb-online.de
Did you find any incorrect or incomplete information? Please, let us know.
Season 2013-2014
Current roster
season 2013-2014
* no longer in the club
from 1899 to present: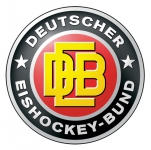 Germany and Russia U16 winners
U16 National team games have been played this weekend. Germany won a tournament in Kitzbühel with victories over Switzerland Red 7-3, Austria 10-4 and Switzerland White 9-1.
Slovakia and Russia played three games in Ruzinov. Russia wan all three: 6-0, 11-2, and 6-1.
(20 Aug 2017)
Swiss U20 team wins in Dresden
Team Switzerland U20 won the 4-nations U20 tournament in Dresden, Germany with a perfect record. Germany was beaten 4-2, Czech Republic 4-0 and Slovakia 3-0.
Swiss goalie Matteo Ritz was outstanding shutouts in both games he played. Damien Riat, also Switzerland, was the tournament's top scorer with three goals and two assists.
(30 Jul 2016)
World Championship preparation
The World Championship in Russia starts in three days. Four pre-tournament games were played today. Canada beat Czech Republic 3-0 and Kazakhstan beat France 6-3. Finland-USA (3-2) and Switzerland - Germany (4-3) were both decided in overtime.
(03 May 2016)
Czechs beat Germany
In one of many friendly games before the World Championship Czech Republic beat Germany 7-2 in Usti nad Laben tonight.
(06 Apr 2016)
Women's national team tournaments
Today started two national team tournaments for women. In Sundsvall, Sweden Canada beat Finland 2-0 and the home team lost 2-6 to USA. In Czech Republic Russia beat Switzerland 4-1 and Germany beat Slovakia 4-2.
(04 Nov 2015)
Künast to coach German U20 national team
Former German national goalie Christian Künast has been announced as the new head coach for the German U20 national team.
This is the second high-level recruitment for a German national team after Künast's brother-in-law Marco Sturm took the position as new head coach of the men's team last week.
Künast was a goalie in his active career and played in 2 World Championships and the 2002 Olympic Winter Games in Salt Lake City for the senior men's team. His first experience as head coach he collected with the Hannover Indians in 2. Bundesliga in 2012-13.
(21 Jul 2015)
Germany relegated
Japan beat Germany in overtime in both relegation games of the Women's World Championship. That means that Japan stays in the elite division while Germany are relegated.
(03 Apr 2015)
Germany beats Switzerland
Germany defeated Switzerland 2-0 in SAP Arena Mannheim tonight.
Daniel Pietta and Tobias Rieder scored the goals while Robert Zepp in the net made 24 saves.
(02 May 2014)
Germany lose two key players for 2014 WC
The list of players that are not able to participate for Germany during the 2014 IIHF World Championship in Minsk in May, becomes longer and longer. Yesterday news were published by the German federation that NHL players Christian Ehrhoff and Alexander Sulzer (both Buffalo Sabres, NHL) told the head coach of the national team, Pat Cortina, that they won't be able to play due to injuries (concussions in both cases). Before already Michael Wolf (foot injury) and David Wolf (banned by federation for violence) were not able to play.
(17 Apr 2014)
Draisaitl suspended
Germany's captain Leon Draisaitl will be suspended for today's WJC game against the Czech Republic. He got a match penalty for a check in the back of American player Andrew Copp yesterday.
(30 Dec 2013)
Historic rosters:
Historic statistics:
Past results:
League standings:
Fast facts
season 2013-2014
As Sheffield Steelers (EIHL) gear up for a play off push changes were made. Read more»
From practice in a car park and over a Persian carpet to skating in one of the most prestigious hockey academies: Eurohockey meets Guila Mohajer: facing many difficulties, the first Iranian women hockey player is now studying coaching in Vierumaki Sport ... Read more»