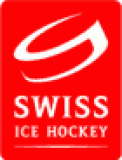 Switzerland
Year of foundation: 1908
Colours: red, white, black
Club status: active
Address: Swiss Ice Hockey
P.O. Box
Hagenholzstrasse 81
8050 Zürich
Switzerland
Phone: +41 44 306 50 50
Fax: +41 44 306 50 51
Email: info@swiss-icehockey.ch
Did you find any incorrect or incomplete information? Please, let us know.
Season 2017-2018
Current roster
season 2017-2018
* no longer in the club
from 1899 to present: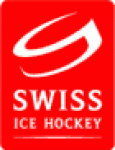 New coaches for Switzerland juniors
After coach Christian Wohlwend signed for HC Davos, Swiss Federation named Thierry Paterlini as new head coach of U20 National Team. Former player, Paterlini coached the U18 Team since 2015. He will be replaced by former U17 coach Martin Höhener
(13 Jun 2019)
Switzerland wins WC preparation against Latvia
Switzerland beat Latvia 4-1 in Herisau tonight. Miks Indrasis scored 1-0 for Latvia in the first period. Switzerland then scored two goals in the second period and teo in the third. Swiss goals: Gregory Hofmann, Noah Rod, Lukas Frick and Vincent Praplan.
(03 May 2019)
Slovakia U18 relegated
Slovakia lost the third game of the relegation round at the World U18 Champonship in Sweden. Switzerland won the game 6-3 to avoid relegation.
Germany are promoted from Division 1A.
(28 Apr 2019)
Nico Hischier scores three
In his first game ever for the Swiss men's team Nico Hischier scored a hat-trick in the third period. Switzerland won the game against France 6-0.
(26 Apr 2019)
World Juniors Quarter finals
The quarter final match-ups of the World Junior Championship in Canada is decided after the end of the Preliminary Round:
Sweden - Switzerland
Canada - Finland
USA - Czech Republic
Russia - Slovakia
(01 Jan 2019)
Switzerland beat Norway
Two days before the start of the Olympic Tournament Switzerland beat Norway 4-2 in Goyang. Simon Moser scored two goals within 1:03 in the second period.
(12 Feb 2018)
Müller scores four in Swiss win
Alina Müller scored the first four goals of the game when Switzerland beat Korea 8-0 on the opening day of Women's Olympics.
(10 Feb 2018)
World Juniors quarter finals
The World Junior Championship quarter finals will be played on Tuesday:
Czech Republic - Finland
Canada - Switzerland
Sweden - Slovakia
USA - Russia
Belarus and Denmark will play three games to decide who relegates.
(01 Jan 2018)
Swiss women win in Albertville
This week Switzerland won the 3-nations tournament with France and South Korea in Albertville.
Results: South Korea - France 1-2, Switzerland - France 2-1 OT, Switzerland - South Korea 2-1 OT, France - South Korea 5-4 OT, France - Switzerland 0-4 and South Korea - Switzerland 2-5.
(20 Aug 2017)
Big wins on Ivan Hlinka Memorial opening day
Three of the four games on the first day of Ivan Hlinka Memorial in Breclav, Czech Republic and Bratislava, Slovakia ended with big wins. First Lukas Wernblom and Samuel Fagemo scored two goals each when Sweden beat USA 6-1 in Breclav. In the second game in Breclav Czech Republic beat Switzerland 6-2 after two goals by Jan Jenik and two by Jakub Lauko.
In Bratislava Ruslan Iskhatov scored the winner when Russia beat Canada 4-3 after a shootout. Rasmus Kupari had two goals and three assists when Finland got an easy 6-1 win over Slovakia.
(07 Aug 2017)
Historic rosters:
Historic statistics:
Past results:
League standings:
Fast facts
season 2017-2018
Switzerland participates in season 2017-2018: Euro Hockey Tour, National team games, Olympics, Women's Olympics, World Championship, U20 National team games, WJC, U19 National team games, U18 National team games, WJC18, U17 National team games, U16 National team games, World Women's U18 Championship, National team games (Women), Spengler Cup
All the awards for the season were assigned during the General Assembly of the Federation Read more»
The second tier of British hockey is to undergo a re-vamp from season 2019-2029. The new ten-team national division will sit above the long-standing Divisions One and Two, which will continue to be regionalised into North and South. ... Read more»