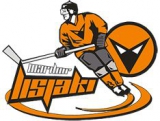 HDK Maribor
Name in original language: Hokejsko Drsalni Klub Maribor
Year of foundation: 1993
Colours: orange, black
Club status: active
Address: Koresova ulica 7
2000 Maribor
Phone: +386 2 320 46 06
Fax: +386 2 320 46 07
Email: hokejskiklubmaribor@siol.net
Did you find any incorrect or incomplete information? Please, let us know.
Season 2016-2017
Current roster
season 2016-2017
* no longer in the club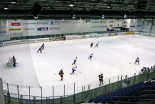 Adress: 7 Koresova Ulica
Maribor 2000
Slovenija
Phone: +386 02 320 78 14
Email: gordan.prelic@somb.si
Capacity: 3000
Ice hockey in Maribor started in 1947. At the time there were 2 teams, Železničar and Polet. Both joined together in early 1950's under Železničar banner. After that ice hockey was played on and off, depending on weather conditions as there was no ice rink until 19xx. Maribor senior hockey team was recreated in 1993 and has played in Slovenian championships ever since with the exception of 1999/00 season.
Notable players:
from 1993 to present:
Maribor - Medvescak not played
The game of Croatian League between Maribor and Medvescak Zagreb, scheduled for yesterday, was not played because Medveščak could not gather more than eight players for the trip. Probably Zagreb team will receive a 5-0 forfeit
(14 Nov 2012)
Maribor wins bronze in Slovenia
By beating twice 4-1 Triglav Kranj, HDK Maribor clinches bronze medal in Slovenian National League. Today Olimpija Ljubljana and Acroni Jesenice play final game #2. Olimpija leads the series 1-0
(28 Mar 2012)
Olimpija and Jesenice will decide Slovenian National League
Defending champion Acroni Jesenice will defend national title against arch-rival Olimpija Ljubljana. The two main Slovenian teams advance to final defeating Triglav Kranj and HDK Maribor respectively. Playing with EBEL rosters Jesenice left with no chance Triglav, winning 5-2 and 6-0, while Olimpija left Maribor arena with a 3-3 draw in the first game, but decided series at Tivoli arena with a clear 4-1.
(25 Mar 2012)
Slovenian National League starts tomorrow
Slovenian Domestic League will start tomorrow with the first round of qualification group. Five teams (Triglav, Bled, Maribor, Slavija and Olimpija) will play a single round robin until March 9th. Then, the best two teams will play against Tilia Olimpija and current champion Acroni Jesenice playoff semifinals. Follow Slovenian League on eurohockey.com !
(24 Feb 2012)
Historic rosters:
Historic statistics:
Past results:
League standings:
Fast facts
season 2016-2017
The Executive Committee of Federation announces the winners of individual awards for the 2016-17 season Read more»
The Alliance of European Hockey Clubs (E.H.C.) held its first Fenix Outdoor European Hockey Awards ceremony in Prague, Czech Republic Read more»