Titan Klin
Name in original language: ХК Титан Клин
Year of foundation: 1953
Colours: green, yellow, white
Club status: active
Address: ul. Karl Marx, 99
141 600 Klin
Moscow region

Phone: +7 (49 624) 3-82-45
Fax: +7 (49 624) 3-82-45
Email: ldvorets@mail.ru
WWW: Titan Klin
Did you find any incorrect or incomplete information? Please, let us know.
Season 2019-2020
* no longer in the club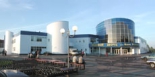 Adress: ul. Karl Marx, 99
141 600 Klin
Moscow region
Phone: +7 (49624) 2-65-63
Email: ldvorets@mail.ru
Capacity: 1200
Opened in: 2003
from 1953 to 1991: Khimik Klin
from 1991 to present: Titan Klin
from 1991 to present: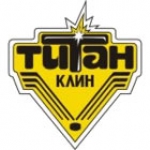 Vityaz changes farm team
Vityaz Podolsk announces the sign of one-year farm team agreement with Titan Klin. Last season Kuban Krasnodar was the Vityaz's farm team
(17 Jun 2013)
Titan Klin headcoach resigns
Head coach Titan Klin Andrei Amelin resigned today from his charge. "The main reason I´m leaving the club is my family, my little son, whom I could not devote much time. I resigns also due to errors which I made in my work, maybe other people will shake the guys. The team, unfortunately, did not work for me." said Amelin.
Andrei's decision is a surprise, the guys were upset - told forward Michael Deev. - This is our fault: was lost a number of recent matches, and he took all the blame and responsibility."
Titan is currently 20th in VHL table
(13 Nov 2012)
New cooperation for Magnitogorsk
Metallurg Magnitogorsk has signed an agreement on sports cooperation with Titan Klin of VHL
Previously existing agreement with Yuzhny Ural Orsk was terminated by mutual agreement.
(09 Jan 2012)
Titan Klin fires coach
Czech Jan Zahrla was fired as Titan Klin (VHL) head coach. Unfortunately, coach Zahrla failed as coach of our club - explained club president Vyacheslav Belov - Under his leadership, the team began the season with poor results.
New coach is former long-time assistant Andrei Amelin, with Aleksandr Dmitriev as new assistant
(05 Oct 2011)
Titan Klin will be penalized
Not really a good debut for VHL newcomer Titan Klin. In their first game against VMF St. Petersburg the club alligned three not registered players: Dmitri Samarin, Igor Knyazev and Dmitri Demchenko. After examining the referee report, VHL has decided to cancel the result of the match, to count Titan as forfeited and consequently to penalize the club. On the ice Titan won the game 4-3 at overtime. Samarin scored a goal and served an assist
(14 Sep 2011)
Historic rosters:
Historic statistics:
Past results:
League standings:
Past, present and future of a growning passion: Eurohockey meets Philippines national team captain Steven Füglister Read more»