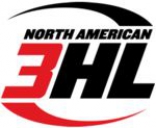 NA3HL
League status: Active
Youth league: yes, U20
English name: North American 3 Hockey League
Administered by: North American Hockey League
Head manager: Jim Rufo
Year of start: 2010
Did you find any incorrect or incomplete information? Please, let us know.
The league began as the a Junior B-level league known as the Central States Hockey League (CSHL), during the early 1980s it was known as Metro Detroit Junior Hockey League.but returned to the CSHL name until 2010. The league moved up from Junior B to Tier III Junior A status in the summer of 2007 because it was considered to be one of the top Junior B leagues in the United States. The past four years, the St. Louis Jr. Blues proved their dominance on the national stage winning the national championship four years in a row. The Jr Blues made history during the 2006-2007 season. They were the first team to win four consecutive national titles, breaking a record that was set over 60 years ago.
During the 2008-2009 season, it was announced that the Pittsburgh Jr. Penguins would be joining the CSHL for the 2009-2010 season, bringing the number of teams to 13. The league will return to 12 teams for 2010-11, as the Dubuque Thunderbirds franchise folded making room for the return of the Dubuque Fighting Saints in United States Hockey League.
On November 1, 2010 it was announced that the North American Hockey League would take control of the CSHL immediately. The NAHL-CSHL affiliation allows for a more structured Jr. hockey system to provide athletes with more opportunities to advance to college and pro hockey. At the time of the take over the league was renamed to the North American 3 Hockey League (NA3HL).
Alexandria Blizzard to relocate to Brookings, South Dakota for 2012-13 Season
The North American Hockey League (NAHL) has announced that its Board of Governors has approved the relocation of the Alexandria Blizzard from Alexandria, Minnesota to Brookings, South Dakota. Once the move to Brookings is complete, the team shall be renamed the Brookings Blizzard and compete in the NAHL's Central Division during the upcoming 2012-13 season.
NAHL also announced that would be keeping a team in Alexandria, Minnesota to play as the Alexandria Blizzard in the North American 3 Hockey League (NA3HL), an 18-team, USA Hockey Tier III-sanctioned junior league that is run by the NAHL.
(23 Apr 2012)
Past league results:
League standings:
Historic statistic:
Individuals records:
Fast facts
season 2021-2022
IIHF President expressed a clear position on the situation in Ukrainian hockey during a meeting with the Federation Read more»
Ted Brithen scored three goals when Rögle beat another Swedish team, Frölunda, in the first of two games in the Champions Hockey League semi finals. Red Bull München and Tappare were supposed to play in Münich but that game was canceled ... Read more»