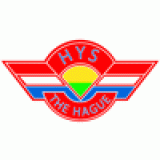 UltimAir Hijs Hokij Den Haag
Name in original language: Haagsche Ijshockey Stichting
Nickname: Wolves
Year of foundation: 1933
Colours: blue, light red, dark red
Club status: active
Address: Hijs Hokij Wolves
Gorzenveld 2
2727 AR Zoetermeer
Phone: +31 (0) 70 3099514
Fax: +31 (0) 70 3099515
Email: info@HijsHokij.nl
WWW: HIJS Hokij
Did you find any incorrect or incomplete information? Please, let us know.
Season 2023-2024
Current roster
season 2023-2024
* no longer in the club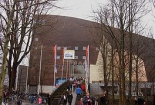 Adress: De Uithof
Jaap Edenweg 10
2544 NL Den Haag
Phone: + 31 0900-33848463
Email: info@deuithof.nl
Capacity: 2610
Opened in: 1973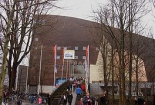 Adress: De Uithof
Jaap Edenweg 10
2544 NL Den Haag
Phone: + 31 0900-33848463
Email: info@deuithof.nl
Capacity: 2610
Opened in: 1973
The team was founded on April 16, 1933 as part of a three-team league (together with Tilburg and Amsterdam) called the Nederlandse IJshockey Bond. This league began play in 1934. In 1937-38 The Hague won the championship for the first time, repeating in 1938-39 and winning the Western Europe Cup. The team played all of its 1940 season in Tilburg and Amsterdam because of a lack of home arena.
Dutch hockey was interrupted during the German occupation from 1941-1944, but resumed in 1945 when an arena was rebuilt in The Hague. Nederlandse IJshockey Bond set up the Eeredivisie, the top Dutch ice hockey division, in 1946. HHIJC was once again competitive, winning the Eredivise championship in 1946 and 1948. In 1947, HHIJC merged with the Penguins, another Hague team.
The team was most dominant during the relaunch of the Eeredivie in the 1960s, repeating five times as champions from 1964 to 1969. The team then entered into a period of almost 40 years of decline, winning no championships and only intermittently playing in the Eredivisie from the 1980s to the early 2000s. In 1996, HHIJS merged with another Hague team, HOKY, to become the HHIJS HOKY Wolves.
In 2004, the team permanently re-entered the Eredivisie, finishing in last place (1-0-3-16 in 2005-06; 3-1-0-16 in 2006-2007). In 2007-08, it dropped the "Wolves" nickname and played as "HYS The Hague", a name reminiscent of successful teams of the past. That year, it had its first winning season in the Eredivisie since 1979, with a record of 14 wins, 2 overtime wins, 2 overtime losses and 6 regular season losses, good enough for third place.
In 2008-09, the team improved to second place overall with a record of 14-3-2-5, and won its first National Championship in 40 years by defeating Tilburg in the playoff finals. This would have qualified the team to participate in the 2009-2010 Champions Hockey League, but the tournament was cancelled for financial reasons. Instead, the team participated in the 2010 Continental Cup, making it to the third stage
from 1945 to 1964: H.H.IJ.C Den Haag
from 1964 to 1991: H.IJ.S. Hoky Den Haag
from 1991 to 1993: Groenwegen Meubelen Den Haag
from 1993 to 1995: HIJS Den Haag
from 1995 to 1999: HIJS Hoky Wolves Den Haag
from 1999 to 2001: Knijnenburg Wolves Den Haag
from 2001 to 2002: HIJS Hokij Wolves Den Haag
from 2002 to 2004: Kalisvaart Wolves Den Haag
from 2004 to 2006: Skoda Duindam Wolves Den Haag
from 2006 to 2008: Hijs Den Haag
from 2008 to 2014: HYS The Hague
from 2014 to 2018: HIJS HOKIJ Den Haag
from 2018 to 2021: CAIROX Hijs Hokij Den Haag
from 2021 to present: UltimAir Hijs Hokij Den Haag
Eredivisie National Championship: 1945-46; 1947-48; 1964-65; 1965-66; 1966-67; 1967-68; 1968-69; 2008-09.
Dutch National Champions (before Eredivisie or when did not operate): 1937-38; 1938-39; 1952-53; 1953-54; 1954-55
Western Europe Cup/International Cup: 1938; 1949; 1950; 1951; 1952; 1963
Barbanson Cup: 1949
League winners:
from 1900 to present: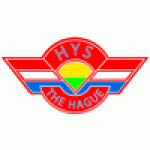 Continental Cup 2nd Round, Day #2
In Dunaujvaros B Group Belgian White Caps Tourhout made a sensation beating 5-3 Dutch champion HYS The Hague with an amazing performance by American goalie Tyler O'Brien, 53 saves and it's almost qualyfing for an historic third round. Host Dunaujvarosi Acelbikak hammered 7-1 Spanish champion CH Jaca: a significant 80-10 shoots on goal says a lot about a one-sided game.
C Group in Miercurea Ciuc, Romania opened with an easy victory by Metalurgs Liepaja. Latvian side scored 11 goals against Olimpija Ljubljana with an hattrick by Juris Upitis, while Sport Club says goodbye to qualification after 1-5 suffered by Beybarys Atyrau, now with a chance to advance if Liepaja will lost in last game.
Follow all Continental Cup results and stats on Eurohockey.com here
(23 Oct 2011)
Continental Cup 2nd Round results
The second Round of Continental Cup started on Friday, with two groups in Miercurea Ciuc (ROM) and Dunaujvaros (HUN). In Romania, Liepaja Metalurgs opened tournament with a shoot-outs victory against Kazakh champion Beybarys Atyrau: 3-2 with decisive shoot-out by Juris Upitis. Host SC Csikszereda easily won its first match, 8-3 against HK Olimpija Ljubljana (farm of EBEL main team) with 2 goals scored by Ede Mihaly.
In Hungarian seed White Caps Turnhout, winner of preliminary group, didn't have problem with Spanish champion CH Jaca: 7-3 and 3 goals by veteran Marek Ziarny while Dunaujvarosi Acelbikak frustrated its fans loosing 3-1 with Dutch HYS The Hague
(22 Oct 2011)
Historic rosters:
Historic statistics:
Past results:
League standings:
Fast facts
season 2023-2024
UltimAir Hijs Hokij Den Haag participates in season 2023-2024: Be-Ne Liga
Cardiff Devils won by one-goal-difference against home side Grenoble and advances to the Continental Cup Superfinals along with Nomad Astana Read more»
Kazakh champion closes the Continental Cup semifinals round with a perfect record, by beating HK Zemgale in the last game Read more»