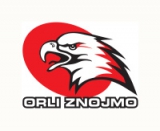 Orli Znojmo
Short name: Znojmo
Year of foundation: 1933
Colours: red, white, black
Club status: active
Address: Dvořákova 3602/17
66902
Phone: +420 602 121 669
Fax: +420 515 221 011
Email: hcorli@gmail.com
WWW: http://www.hcorli.cz
Did you find any incorrect or incomplete information? Please, let us know.
Season 2010-2011
Current roster
season 2010-2011
* no longer in the club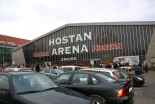 Adress: Dvořákova 21
66902 Znojmo
Phone: +420 515 222 770
Capacity: 5000
Opened in: 1970
The club was playing in Czech Extraliga for 10 years between 1999 and 2009. After 2008/2009 season the club owner sold club's Extraliga license to Brno and received 1.liga license. Orli played two seasons in the 2nd highest-level of Czech hockey before announcing the intention of joining the international EBEL league since 2011/12 season, thus becoming the first ever Czech club to compete in foreign league competition.
Notable players:
from 1933 to 1993: TJ Sokol Znojmo
from 1993 to 1997: SK Znojmo
from 1997 to 2002: HC Excalibur Znojemsti orli
from 2002 to 2004: HC JME Znojemsti orli
from 2004 to 2009: HC Znojemsti orli
from 2009 to present: Orli Znojmo
Ten years in Czech Extraliga, 3rd place in 2005
Czech junior (U20) champions 2010-11
League winners:
from 2009 to present: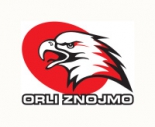 EBEL semifinals start today
After Red Bull eliminated Klagenfurter AC with a 5-2 win in Game 7, today the semi-finals start in Erste Bank Eishockey Liga. Defendig champion Salzburg will be challenged by Villacher SV. Orli Znojmo vs Black Wings Linz is the other match-up in the race for a spot in the final.
(13 Mar 2016)
EBEL playoff draw made
In EBEL, the top-3 seeded club could pick their opponent for the first playoff round. Following matchups will battle in the quarterfinals:
Red Bull Salzburg (1) - Klagenfurter AC (8)
Orli Znojmo (2) - Dornbirn Bulldogs (5)
Vienna Capitals (3) - VSV Villach (7)
HC Bolzano Foxes (4) - Black Wings Linz (6)
(23 Feb 2016)
Last-minute roster changes in EBEL
With only three games left before the start of the playoffs, the clubs in EBEL had to make the final roster decisions. In order to stay within the 60-point-limit under the EBEL point system, four clubs made signficant choices going into the playoffs.
Red Bull Salzburg signed Juuso Riksman as the new backup. GK Fabian Weinhandl and FW Marco Brucker were released to make space for the Finnish net minder. The Vienna Capitals scratched Kurtis McLean, whereas Roland Hofer will no-longer be part of the roster of the Bolzano Foxes. Davide Nicoletti, who was part of the Italian's championship winning team in 2014, will take Hofer's spot in the line-up. Orli Znojmo increased its depth between the pipes acquiring Jan Lukas.
(16 Feb 2016)
Matrin Stloukal leaves Znojmo
HC Orli Znojmo and their head coach Martin Stloukal have decided to go separate ways. Team announced that in the upcoming season Stloukal will no longer be on the Czechs' bench. Club president Ohera said: "Our views and philosophy parted, so we'll continue our struggle with a new head coach."
(09 Mar 2013)
Brawl ends Znojmo test game early
A match of EBEL team HC Orli Znojmo against SK Horácká Slavia Trebíc of the 1. Liga - 2nd tier in Czech ice hockey - was ended after only 35 minutes by the referees. When Trebíc was leading 3-2 a brawl including players on the bench occured and for safety reasons the game was stopped immediately and not continued. 
(24 Aug 2012)
Znojmo - KAC replayed on December 28th, 2011
The game between HC Orli Znojmo and EC KAC last friday which was postponed after first period (score 2-2) due to problems with ice will be played again on December 28th, 2011. Referees decided after that that ice wasn't in proper state for skating as there was a big hole in it.
(02 Nov 2011)
Change of coach for Znojmo
Karel Soudek is no longer the head coach of Czech side Orli Znojmo. After a few games into their maiden season in EBEL, the Czech club relieved Soudek of his duties and promoted assistant coach Martin Stloukal to the head coach position. Znojmo sits 10th in the table with four straight losses.
(04 Oct 2011)
Jan Platil signs one-month contract with Znojmo
Few days before the start of the Erste Bank Eishockey League, newcomer Znojmo signed experienced defender Jan Platil. After spending summer camp at his native Kladno, Platil didn't reach an agreement with team and was released. He signed one-month contract with Znojmo waiting for offers in more competitive leagues. Last season Platil played for Kladno, Poprad in Slovak Extraliga and Nürnberg Ice Tigers in DEL
(07 Sep 2011)
Historic rosters:
Historic statistics:
Past results:
League standings:
Fast facts
season 2010-2011
Cardiff Devils won by one-goal-difference against home side Grenoble and advances to the Continental Cup Superfinals along with Nomad Astana Read more»
Kazakh champion closes the Continental Cup semifinals round with a perfect record, by beating HK Zemgale in the last game Read more»