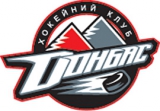 Donbas-2 Donetsk
Name in original language: Донбас-2 Донецьк
Year of foundation: 2012
Colours: red, white, black
Club status: temporarily not active
WWW: Donbas-2 Donets'k
Did you find any incorrect or incomplete information? Please, let us know.
Season 2012-2013
Current roster
season 2012-2013
* no longer in the club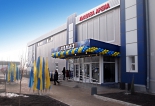 Adress: vul. Schetynina, 1-d
Donetsk
Ukraine
Capacity: 450
Opened in: 2011
Following Donbas Donets'k announcement of joining the Kontinental Hockey League, team owner and president Borys Kolesnikov announced that newly created Donbas-2 Donets'k in season 2012/13 would to act as a farm team for the KHL team. Moreover, the team would place an emphasis on the development of junior ice hockey players, limiting the roster to those under the age of 25, with focus on 17-21 year olds.
After the championship season 2012/13 in the Ukrainian PHL club managers said that Donbas-2 will play next season in Molodezhnaya Hockey League (MHL), and offered to fans to choose a new club name. On April 2, 2013 HC Donbas announced the beginning of negotiations with MHL (Junior Hockey League) concerning the question regarding the inclusion of the youth club team in the MHL Championship season 2013/14. On April 16, 2013 passed a vote for the best team that will represent Donets'k in MHL. According to the poll, which was conducted on the official website of the club, the team will be named Moloda Hvardiya (Young Guard). This variant of the name entered 45.28% of the total quantity of voted. Two other options – Donets'ki Skify (Donets'k Scythians) and Polumya Donbasu (Donbas Flame) – voted 31.62% and 23.10%, respectively. In total turnout in 2195 people.
from 2012 to 2012: Donbas-2 Donetsk
from 2012 to present: Donbas-2 Donetsk
from 2012 to 2012:
from 2012 to present:
Companion - Donbas-2 will be the final in Ukraine
Companion Naftogaz Kyiv advances for the first time to PHL finals after beating 2-1 SO Sokil Kyiv in a dramatic semifinal game #5. Companion will face champion Donbas-2 that eliminated 3-0 in the series Dynamo Kharkiv.
Regular season dominator Berkut Kyiv was disqualified for financial irregularities and didn't competed in playoffs
(17 Mar 2013)
20 games suspension for Maksim Martyshko
Ukrainian Professional League (PHL) Disciplinary Committee decided to disqualify Donbas Donets'k forward Maksim Martyshko for 20 games for deliberately blew the judges with the stick after the 17 November game against Dynamo Kharkiv, when the referee gave him a major penalty In addition, Martishko may have to pay a fine of two thousand hryvnia. For the same game Dynamo headcoach Dmitry Yakushin was banned for three games of the regular season for illegally entered in the referee's locker room
(21 Nov 2012)
Aleksei Shagov takes 10 games ban
Donbas Donets'k 2 forward Aleksei Shagov received 10-games ban for repeatedly using profanity and insults to a referee that gave him 10 minutes penalty plus a match penalty in the 22 September Ukranian League game against Levy L'Viv.  During the suspension, Shagov doesn't receive money for four games, then will received a 12.000 hryvnia salary until the end of suspension
(27 Sep 2012)
Historic rosters:
Historic statistics:
Past results:
League standings:
Fast facts
season 2012-2013
Donbas-2 Donetsk participates in season 2012-2013: PHL (UKR)
After last year's postponement, the first edition of international tournament will be assigned in Latvia Read more»
Fall in love with a new sport by reading our in-depth explanation for why every sports fan should appreciate the entertainment of ice hockey. Read more»