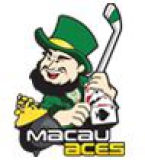 Macau Aces
Year of foundation: 2010
Colours: green, white, black
Club status: active
Address: 1801 Wing On Central Building
26 Des Voeux Road Central Central, Hong Kong
Phone: +852 2892 7389
Fax: +852 3753 8926
Email: info@cihl.com
WWW: Macau Aces
Did you find any incorrect or incomplete information? Please, let us know.
Season 2022-2023
Current roster
season 2022-2023
* no longer in the club
from 2010 to present: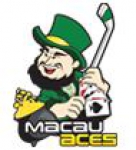 Macau Aces win first title in Hong Kong
- cihl.com
The Macau Aces held off the Hong Kong Tycoons to become the 2016-2017 CIHL Quam Cup Champions after reaching the finals for the first time.
Jeff Ceccacci (1g, 2a), Whitney Olsen (2g), and Stefan Northman (1g, 1a) helped the Aces build a 5-1 lead, only to see it erased as the Tycoons netted three consecutive goals to make it a 5-4 game with under one minute left to play.
Time expired before the Tycoons could complete the comeback and the Aces celebrated in joy as they raised the Quam Cup
(08 Apr 2017)
Tycoons win title in Hong Kong
Finished last in the regular season, Hong Kong Tycoons caused a big surprise beating regular season winner Macau Aces in the semifinal and title holder Kowloon Warriors 6-5 at overtime in a dramatic final with decisive goal by Canadian Jonathan Szychta at 61:06 to win the first tile of CIHL Hong Kong. Tycoons forward Brad Smith was the top scorer of the league
(28 Mar 2015)
Historic rosters:
Historic statistics:
Past results:
League standings:
Fast facts
season 2022-2023
Gary Graham parted ways with EIHL side Nottingham Panthers this morning. Read more»
With a 5-2 win for Cardiff and 4-1 win for Angers they will take their place in the Superfinal. Read more»