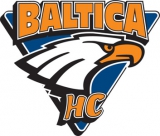 HC Baltica Vilnius
Year of foundation: 2011
Colours: orange,blue
Club status: ceased (Played from 2011 to 2014 in MHL-B. Club withdrew midseason in 2013-14)
Address: M. K. Ciurlionio g. 70A-3,
Vilnius, Lithuania

Phone: +370 5 2762828
Email: info@hcbaltica.lt
WWW: HC Baltica Vilnius
Did you find any incorrect or incomplete information? Please, let us know.
Season 2013-2014
Current roster
season 2013-2014
* no longer in the club
from 2011 to present: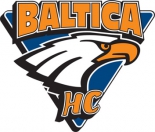 Aigars Cipruss new coach of Lithuania U20
Latvian Aigars Cipruss was named new head coach of Lithuania U20 national team. Cipruss is currently the head coach of MHL-B team Baltica Vilnius and will keep his job at club.
Lithuania will compete at 2014 IIHF U20 World Championship Division II Group A in Miskolc, Hungary from 15 to 21 December 2013 along with Croatia, Hungary, Romania, Netherlands and Estonia
(26 Jul 2013)
Aigars Cipruss on Baltica bench
Aigars Cipruss is the new head coach of Lithuanian club Baltica Vilnius of the MHL-B.
Cipruss is currently Latvian national team Assistant Coach and an active player in the Latvian League with Ozolnieki/Monarch. Last season he coached HK Juniors Riga in same MHL-B
(04 Jan 2013)
Kasparaitis named Baltica honorary president
Darius Kasparaitis became honorary president of the MHL-B club Baltica Vilnius. In the club Kasparaitis will be responsible for the development of hockey in Lithuania, the development of club policies, as well as take over the function of the development of international relations.
(01 Nov 2012)
Belarus Open League will change format
Belarus Federation Executive Committee approved new format for next Belarus Open League. Eleven teams will played four round robins, then will be divided in two groups: the first six secure a place in the playoffs and will play two more rounds to determine higher position for a final knock-out round. The first two teams of second group also will gain right to play playoffs.
There is an option for the entrance of a team from Lithuania, probably Baltika Vilnius, currently competing in MHL-B. The approved format is valid just for next season
(20 Dec 2011)
Historic rosters:
Historic statistics:
Past results:
League standings:
Fast facts
season 2013-2014
The tenth title comes after a dominated final series, won in just 4 games. Read more»
Even if this is site mainly about European ice hockey we always look out for hockey around the world. In this piece we take a look back at some historic NHL moments. Read more»