Esbjerg Energy
Short name: Esbjerg
Year of foundation: 2005
Colours: blue, white
Club status: active
Address: Esbjerg Elite Ishockey A/S
Gl Vardevej 82
6700 Esbjerg
Phone: +45 76 12 66 18
WWW: Esbjerg Energy
Did you find any incorrect or incomplete information? Please, let us know.
Season 2013-2014
Current roster
season 2013-2014
* no longer in the club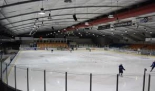 Adress: Gl. Vardevej 82
Esbjerg
Phone: +45 75459499
Email: info@sepe.dk
Capacity: 4195
Opened in: 1976
EfB took over the elite team of Esbjerg IK in 2005 due to financial reasons. In 2013 EfB sold the Elite team to a new owner and the name was changed to Esbjerg Energy.
from 2005 to 2013: EfB Ishockey
from 2013 to present: Esbjerg Energy
from 2005 to 2013: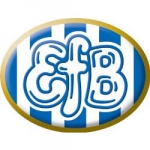 from 2013 to present:

Danish Cup draw
The first round of Metalcuppen has been drawn: Hvidovre IK - Rungsted Ishockey, Herlev Eagles - Esbjerg Energy, Bulldogs Odense - Gentofte Stars, Amager Jets - Rødovre Mighty Bulls. It will be played September 5.
The quarter finals will be played September 12 and 13 and then the four top seeds SønderjyskE, Blue Fox Herning, Aalborg Pirates and Frederikshavn White Hawks will enter the competition.
(22 Jun 2014)
IIHF blocked Starkov transfer
Some days ago Red Ice Martigny announced the sign of Danish forward Kirill Starkov. The player had been released by his club Esjberg at the beginning of the year following a matches-fixing scandal
IIHF did not accept the transfer because of this case. The situation will remain unchanged throughout the procedure.
(29 Jan 2014)
Match-fixing scandal in Denmark
Esbjerg fires three players for betting that their opponent Rungsted would score in the first period in a game January 3. Rungsted scored three goals in the first period and won the game 7-4. The fired players are Dennis Jensen, Kirill Starkov and Tyler Mosienko.
(24 Jan 2014)
Historic rosters:
Historic statistics:
Past results:
League standings:
Fast facts
season 2013-2014
After a 4-years hiatus, a Kazakh club could be back in Russian Second League Read more»
The 5th season of Ice Hockey Championship was played at Altit Fort, Hunza in -15 C temperature. SCO male team won the Championship against defending champions team of Serena Hotels. ... Read more»