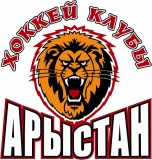 Arystan Temirtau
Name in original language: Арыстан Темиртау
Year of foundation: 2010
Colours: red, white
Club status: ceased (folded after 2014-15 season due to financial problems)
Address: Pr. Respubliki 48
101400 Temirtau
Phone: +7 8 (7213) 90-99-00
Fax: +7 8 (7213) 91-31-88
Email: hc-arystan@mail.ru
WWW: Arystan Temirtau
Did you find any incorrect or incomplete information? Please, let us know.
Season 2014-2015
Current roster
season 2014-2015
* no longer in the club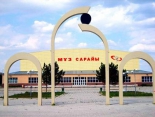 Adress: Republiki av. 28,
101400 Temirtau
Phone: +7 8 (7213) 91 65 85
Capacity: 2706
Opened in: 1974
from 2010 to present:
Arystan won't play next season
It's now official: Arystan Temirtau won't play in next Kazakhstan League as confirmed by executive secretary of Federation Gleb Karataev: "we have no team in Temirtau next season, the budget of Karaganda region can not finance three cities with three clubs and three junior teams. I am confident that the economic situation is temporary, soon everything will return back on track again and we will see an hockey team from Temirtau."
After the folding of Arystan, initially Sary Arka expressed the intention to transfer its farm team to Temirtau but the plan remained on paper.
(04 Jun 2015)
Sary Arka farm will play in Temirtau
The farm team of Sary Arka Karaganda will play the next Kazakhstan League based in Temirtau, replacing Arystan, folded due to financial difficulties, ensuring the continuity of hockey in the city. The team will continue using the name Arystan (Lions). It's still unclear the future of current Sary Arka farm tem, Berkut. Rumours are about a possible partecipation in MHL
(17 Apr 2015)
Arystan Temirtau cancel games
Due to financial difficulties of the team, Arystan Temirtau cancelled the games against Beybarys Atyrau, scheduled for 18 and 19 January for Kazakhstan League
(17 Jan 2015)
Arystan Temirtau given forfeits
Arystan Temirtau had two matches against Arlan Kokshetau postponed while the club sorted out their financial situation. The club in the end was saved however they refused to show up for the matches against Arlan and now the Federation has ruled 5:0 technical victories to Arlan.
(09 Dec 2014)
Arystan Temirtau in financial crisis
Arystan Temirtau has informed their players and the league that the club will not be making the trip to Kokshetau to take on Arlan on 2-3.November due to their financial situation. The clubs players will stay with the club for the moment and keep training should the situation change, however, if nothing does in the next week, the club will be disbanded.
(30 Oct 2014)
Ertis confirms title
Ertis Pavlodar sweeps Arlan Kokshetau 4-0 in the playoffs series confirming title of Kazakhstan League.
Two Czech players from champion team, goalie Marek Pinc and forward Tomas Vak were nominated best goalie and best forward, while English Ben O'Connor from Arlan Kokshetau were awarded as best defender. Arystan Temirtau won bronze medal by beating Beybarys Atryau 3-2 in the series, with a decisive 4-5 at overtime.
Canadian Yanick Riendeau (Arlan) was League Topscorer
(12 Apr 2014)
Arlan wins home tournament
Arlan Kokshetau wins all games of the home tournament against HK Astana (5-2), Arystan Temirtau (4-1) and Zauralie Kurgan (2-1).
Best Goalkeeper: Vitaly Evdokimov, Arlan
Best Defender: Sergei Yakovenko, Arystan
Best Forward: Askhat Rakhmatullin, Zauralie
(06 Aug 2012)
Ertis Pavlodar joins Beybarys in Kazakhstan League finals
Ertis completes today an amazing comeback winning 3-0 game six of semifinals against Sary Arka Karaganda, closing the series 4-2 (recovering from 0-2) and reaching Kazakhstan League finals for the first time in its history. Ertis decided game in the first period, scoring two goals - with Vadim Rifel and Ilya Solarev - in less then two minutes.
Team from North Kazakhstan will face current champion Beybarys Atyrau, having swept Arystan Temirtau in four games, without two key players: captain Evgeny Ushkov and Andrei Troshchinsky, both injured. Game #1 of the finals will be on April 13
(04 Apr 2012)
Playoffs semifinals started in Kazakhstan
Champion Beybarys suffers but get an important victory 3-2 against Arystan Temirtau in Kazakhstan League playoffs semifinals game one. Andrei Zakharov scored decisive goal at 51:12. Arystan, the underdog team in these semifinals, showed it can be competitive in the series.
The most battled series between Sary Arka and Ertis Pavlodar keeps he expectations: Ertis was 1-3 until 57 minutes but Sary Arka managed to equal game and after 17 minutes of overtime Slovak forward Tomas Jasko scored the 4-3 winning goal giving Sary Arka the third victory of the season in the seven matches played between the two teams.
(23 Mar 2012)
Game not played in Kazakhstan League
Due to ice problem at Almaty Baluan Sholak Arena, Kazakhstan League match between HK Almaty and Arystan Temirtau wasn't played today and will be rescheduled. Place and date will be determined soon.
(16 Jan 2012)
Historic rosters:
Historic statistics:
Past results:
League standings:
Fast facts
season 2014-2015
The second European club competition celebrates the quarter of century starting the battles for the silver plate in September Read more»
Ice Hockey is a very popular sport. One of the main reasons for this popularity is that the game is very fast, and each match is full of exciting moments. Even though Ice Hockey is already very exciting, some people want ... Read more»