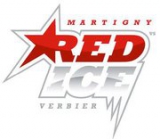 HC Red Ice Martigny-Verbier-Entremont
Short name: HC Red Ice Martigny
Year of foundation: 2008
Colours: red, white
Club status: ceased (bankruptcy after 2016-17 season)
Address: HC Red Ice Martigny-Verbier-Entremont
CP 601
CH-1920 Martigny
Phone: +41 027 722 70 90
Fax: +41 027 722 70 91
Email: info@hcredice.ch
Did you find any incorrect or incomplete information? Please, let us know.
Season 2017-2018
Current roster
season 2017-2018
* no longer in the club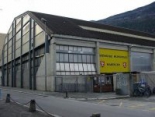 Adress: Sports et Loisirs
Rue du Forum 12
1920 Martigny
Phone: +41 (0)27 723 22 00
Capacity: 4500
Opened in: 1955
Formed in 2008 with the fusion between historical HC Martigny (founded in 1939) in severe economic difficulties and ambitious HC Verbier-Val de Bagnes
Ritired numbers:
10 Petr Rosol
Notable players:
from 2010 to present: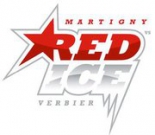 NLB game cancelled
The NLB game between HC Red Ice Martigny and the SC Langenthal today Saturday is postponed.
At least twelve of the Martigny players suffer from food poisoning.
(13 Sep 2014)
IIHF blocked Starkov transfer
Some days ago Red Ice Martigny announced the sign of Danish forward Kirill Starkov. The player had been released by his club Esjberg at the beginning of the year following a matches-fixing scandal
IIHF did not accept the transfer because of this case. The situation will remain unchanged throughout the procedure.
(29 Jan 2014)
New coaches at Martigny and La Chaux-de-Fonds
Two NLB teams announces new coach for next season: Red Ice Martigny added a new Russian staff member besides former coach and now Sports Director Albert Malgin and Assistant Coach Igor Fedulov: new head coach is 53 years-old Petr Malkov, until January coach of Kuban Krasnodar in VHL.
La Chaux-de-Fonds hires Canadian Kevin Primeau as new Headcoach. He was fired in last October from Sapa Fehervar of EBEL
(15 Apr 2013)
Historic rosters:
Historic statistics:
Past results:
League standings:
Fast facts
season 2017-2018
A look back at a season that lived up to its promise. Read more»
The Alliance of European Hockey Clubs (E.H.C.) has announced the nominees for the 2023 Fenix Outdoor & Warrior European Hockey Awards. Read more»