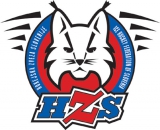 Slovenia
Year of foundation: 1992
Colours: blue, white, red
Club status: active
Address: Ice Hockey Federation of Slovenia
Celovska 25
1000 Ljubljana
Slovenia
Phone: +386 1 430 64 80
Fax: +386 1 231 31 21
Email: hzs@hokejska-zveza.si
WWW: http://www.hzs.si/
Did you find any incorrect or incomplete information? Please, let us know.
Season 2022-2023
Current roster
season 2022-2023
* no longer in the club
from 1990 to present: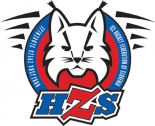 Opening day in Tallinn
France, Ukraine and Slovenia got clear wins on the opening day of the World U20 Championship Division 1B in Tondiraba Icehall in Tallinn, Estonia.
France beat Poland 6-2, Ukraine beat Estonia 7-2 and Slovenia beat Japan 7-3.
(12 Dec 2021)
Matjaz Kopitar is back on Slovenia bench
Matjaz Kopitar, 53, father of Los Angeles Kings captain Anze, is back again on Slovenia national team bench in his third experience as head coach after the 2010-2015 period, when he led Slovenia at Sochi Olympics and in three World Championships, always ended with the relegation of the team. Kopitar was back in 2017-2018 before to work full-time as scout for Los Angeles Kings.
He should sign a contract for four years, beginning the new adventure with two challenge, both on home ice: next February in Jesenice hunting for the Olympic pass battling with Japan, Lithuania and qualifier from a previous round and in late April in Ljubljana at World Championship Division Ia when Slovenia will compete with France, Austria, Korea, Hungary and Romania in a complicate race for the promotion to Elite Division, after a disappointing campaign in Nur Sultan last spring
(22 Jun 2019)
Ziga Jeglich suspended 8 months
The IIHF issued a verdict on the case of Slovenian national team player Ziga Jeglic. He receives an eight-month suspension, until October 20, 2018.
During the Olympics 2018, a fenoterol drug was found in the hockey player's test. The hockey player recognized the violation of the anti-doping rules, and was suspended from the remaining matches of the Slovenian national team. In Korea Jeglich scored one goal. He accepted a voluntary suspension until the date of the final decision
Jeglic played in the KHL last season for Torpedo Nizhny Novgorod and Neftekhimik. After reporting a positive doping test, he left the Nizhnekamsk club.
(13 Aug 2018)
Ivo Jan will coach Slovenia
Vipiteno Broncos head coach Ivo Jan will coach Slovenia national team keeping his job at the Italian team competing in Alps Hockey League.
Matjaz Kopitar, father of Los Angeles superstar Anze, was originally supposed to coach the Slovenian national team, but he cancelled the contract accepting a scout role at Los Angeles Kings.
The 43-year-old signed a 1+1 year contract, heading Slovenia at the 2019 World Championship Division I in Astana against Belarus, South Korea, Lithuania, Hungary and Kazakhstan
(09 Aug 2018)
Kopitar behind Slovenian win
Anze Kopitar had 3 assists when his Slovenia beat Italy 4-0 on the first day of the EIHC tournament in Ljubljana. France beat Austria 2-0.
(08 Nov 2012)
Historic rosters:
Historic statistics:
Past results:
League standings:
Fast facts
season 2022-2023
Kaunas City celebrate the qualification to the second round of Continental Cup with a ten-goals victory over Skautafelag Rejkyavik Read more»
Estonian champion wins KHL Zagreb ensuring first place for the home team Read more»