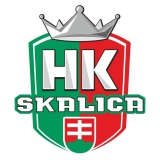 Did you find any incorrect or incomplete information? Please, let us know.
Season 2016-2017
Current roster
season 2016-2017
* no longer in the club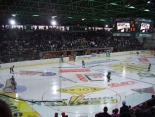 Adress: Clementisova 50, Skalica
Capacity: 4100
HK 36 was forced to leave the Extraliga in 2016 due to lack of funds. The team left prior to their 47th round contest vs. MHC Mountfield due to lack of funds and the exodus of players before the end of the transfer window.
Notable players:
from 1936 to 1947: HK Skalica
from 1947 to 1953: Sokol Tekla Skalica
from 1953 to 1963: Tatran Skalica
from 1963 to 1993: ZVL Skalica
from 1993 to 2016: HK 36 Skalica
from 2016 to present: HK Skalica
from 1993 to 2000: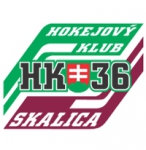 from 2000 to 2016: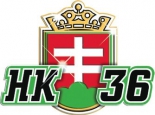 from 2016 to present: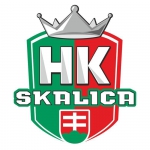 New coaching staff at Skalica
New HK36 Skalica GM Tibor Martincic announced the coaching staff for next season: former assistant coach Stefan Mega will be the new head coach, assisted by former club player Michal Ruzicka
(08 May 2014)
New coaches in Extraliga
Two teams changed coach in Slovak Extraliga: Andrej Výboh replaced Josef Turek, moved to Czech Chomutov, at HK 36 Skalica, while former Sanok and Kosice coach Milan Staš is the new head coach of Dukla Trencin, replacing fired Robert Kaláber. Earlier in mid October also champion Zvolen hired Julius Supler as new coach for dismissed Lubomir Oslizlo
(09 Nov 2013)
New coaches in Slovakia
Three clubs from Extraliga announces new coaches in last day: champion Kosice appointed Anton Tomko from 1 Liga champion Bardejov as new coach. Same Bardejov announced Tomko's replacement, the former GKS Tychy coach Jan Vodila.
Silver medalist Zvolen signed former Kometa Brno assistant coach Lubomir Oslizlo. Finally Skalica will have Josef Turek on its bench. Turek coached Trinec last season
(22 May 2013)
Historic rosters:
Historic statistics:
Past results:
League standings:
Fast facts
season 2016-2017
A look back at a season that lived up to its promise. Read more»
The Alliance of European Hockey Clubs (E.H.C.) has announced the nominees for the 2023 Fenix Outdoor & Warrior European Hockey Awards. Read more»