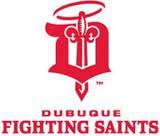 Did you find any incorrect or incomplete information? Please, let us know.
Season 2021-2022
This club in 2021-2022: USHL
Current roster
season 2021-2022
* no longer in the club
from 2012 to present: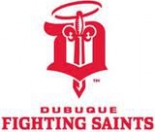 MHL teams open JCWC in style
All three teams of MHL won their opening game of the Junior Club World Cup yesterday. HK Riga beat Dubuque Fighting Saints 5-2, Dinamo-Shinnik Bobruisk beat Sudbury Wolves 5-1 and Omsk Hawks got a 5-1 win over Vitkovice.
In the fourth game Finnish HPK beat Swedish Frölunda 4-3.
(26 Aug 2013)
Dubuque Fighting Saints will play at Junior Club World Cup
The USHL Clark Cup champions Dubuque Fighting Saints announced they have accepted the invitation to play in the 2013 Junior Club World Cup tournament in Omsk, Russia that will take place August 24-31.
"We're honored to receive an invitation to the Junior Club World Cup in Omsk," said Dubuque Fighting Saints President Dan Lehv. "For our organization to be showcased on this international stage is incredibly exciting. We are proud to represent the United States Hockey League and the City of Dubuque in the third annual event. Our players, coaches and staff are looking forward to the experience of a lifetime."
Dubuque will be seeded in Group A along with the Omsk Hawks, Vitkovice and HK Riga
(27 May 2013)
Historic rosters:
Historic statistics:
Past results:
League standings:
Fast facts
season 2021-2022
Dubuque Fighting Saints participates in season 2021-2022: USHL
After last year's postponement, the first edition of international tournament will be assigned in Latvia Read more»
Fall in love with a new sport by reading our in-depth explanation for why every sports fan should appreciate the entertainment of ice hockey. Read more»