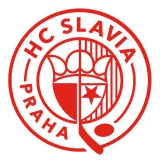 HC Slavia Praha
Short name: Slavia
Name in original language: HC Slavia Praha
Year of foundation: 1900
Colours: red, white
Club status: active
Address: Vladivostocká 1460/10
Praha 10 - Vršovice, 100 00
Phone: +420 267 311 417
Fax: +420 267 311 414
Email: klub@hc-slavia.cz
Did you find any incorrect or incomplete information? Please, let us know.
Season 2024-2025
This club in 2024-2025: 1.liga
Current roster
season 2024-2025
* no longer in the club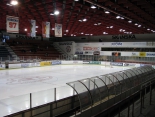 Adress: Vladivostocká 1460/10
Praha 10 - Vršovice, 100 05
Phone: +420 267 311 417
Capacity: 4000
Opened in: 1975
Traditional Czech club founded in 1900 has found his way back to Extraliga in 1994 and has won two titles in recent years. In 2004 Slavia has moved from its old stadium in Eden to the new 17000-capacity arena, which later hosted the World Championships.
from 1900 to 1948: SK Slavia
from 1948 to 1949: Sokol Slavia
from 1949 to 1953: Dynamo Slavia
from 1953 to 1965: Dynamo Praha
from 1965 to 1977: Slavia
from 1977 to 1994: Slavia IPS
from 1994 to present: HC Slavia Praha
League champions 2003, 2008
League winners:
from 2007 to 2020: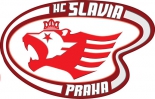 from 2020 to present: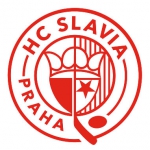 Slavia to semis
HC Slavia Praha was the first team to clinch a semi final spot in the Czech Extraliga. Slavia beat Kladno 4-0 today to win the series 4-1.
(18 Mar 2013)
Czech Extraliga shows up two hattricks
Lukáš Klimek scored three goals during today's game of the 35th Czech Extraliga round between Zlín and Vítkovice. Thanks to its 26-year forward HC Vítkovice Steel fed its tie hopes until the game's very ending. However in time 59.05 Čajánek scored an empty net goal to make the final score a 5-3 victory for Zlín. In another game of the day Lukáš Krenželok scored three Slavia's goals to win surprisingly 2-4 at home of the fearless Czech Extraliga standings leader Plzeň. Accidentaly both hattrick scorers of the round grew up in the team of Vítkovice.
(18 Jan 2013)
Pirati Chomutov joins European Trophy
Pirati Chomutov replaces Slavia Praha in the 2012 European Trophy.
(18 Jun 2012)
European Trophy schedules
European Trophy announced today the schedule for the 2012/13 season. Find the complete fixture list here.
(12 Apr 2012)
Start of Czech Extraliga postponed
Originally, Tipsport Extraliga would start this Friday, Sep 16, with seven games. Because of Yaroslavl jet crash all the first round games are postponed. "Jan Marek, Karel Rachůnek and Josef Vašíček were friends of many Czech Extraliga players. Their friends would be unable to attend Jan Marek's funeral if we will make them play hockey on Friday," Czech Extraliga head commisioner Stanislav Šulc said. New dates for the games is unknown, the clubs will arrange date of their 1st round games themselves.
The Czech top-level ice hockey competition will start on Sunday, Sep 18, with games of the second round.
(12 Sep 2011)
Mannheim drown their chance in penalties
Adler Mannheim missed out on their chance of making European Trophy finals as they lost their final group game 3-5 against Slavia Praha. Mannheim needed a win to climb over Linköping to second place of South division, but conceded three goals in the 2nd period in a nervous game with 270 penalty minutes (133 to Mannheim, 137 to Slavia).
(04 Sep 2011)
Růžička rejected an Omsk offer: Slavia is not prepared for my leaving, he said
Vladimír Růžička has rejected an offer from the club Avangard Omsk, this season's KHL regular season winner. As he said, a future of his current club, where he is already acting as the club's general manager and co-owner, is on the first place to him. "I had a stomach-ache for three days when I was thinking over Omsk's offer," Růžička said, "but it's better now. If all the thinking was about money, I would already be sitting on a plane."
"But the situation isn't about money at all. There was a contract with a stamp already prepared for me in Omsk, but I cannot sign it. Slavia is on my very first place and the club isn't prepared for my leaving now," the former Czech national-team player told.
(09 Apr 2011)
Historic rosters:
Historic statistics:
Past results:
League standings:
Fast facts
season 2024-2025
HC Slavia Praha participates in season 2024-2025: 1.liga
Cardiff Devils won by one-goal-difference against home side Grenoble and advances to the Continental Cup Superfinals along with Nomad Astana Read more»
Kazakh champion closes the Continental Cup semifinals round with a perfect record, by beating HK Zemgale in the last game Read more»