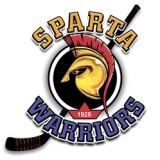 Sparta Sarpsborg
Short name: Sarpsborg
Nickname: Sparta Warriors
Year of foundation: 1958
Colours: blue, white
Club status: active
Address: Sparta Amfi
Sarpsborgveien 10
1711 Sarpsborg
Phone: +47 9485 0101
Email: ihk@sparta.no, tom@sparta.no (Press)
WWW: http://www.sparta.no
Did you find any incorrect or incomplete information? Please, let us know.
Season 2023-2024
Current roster
season 2023-2024
* no longer in the club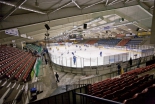 Adress: Sarpsborgveien 10
Sarpsborg
Phone: +47 6912 5840
Capacity: 3707
Opened in: 1963
The ice hockey department of IL Sparta was founded in 1959, and got off to a fantastic start when Norways first indoor hockey arena Sparta Amfi was opened in 1963. Within only three years they earned promotion to the first division as the first team outside Oslo. It was only to be a short stint, and through most part of the late sixties and seventies 'Sparta' spent their time in the second division, with the odd visit to the top flight.
The eighties was to be Spartas greatest decade. Under the leadership of charismatic coach Lasse Bäckman and strengthened by several strong signings from other Norwegian clubs, and a couple of Swedish stars they claimed the Norwegian Championships in 1984. The feat was repeated in 1989, when the club beat heavily favoured Trondheim in the final after claiming the last playoff spot in the last rounds of the league.
The success proved costly for the club, and in 1995, after years of economical problems Sparta had to file for bankruptcy, the only sports club in Norway ever to do so. This meant that they had to start from scratch in the third division, and they lost their best players to other clubs in Norway. However, many of them came back to Sparta. They made the stay a short one, and in 1997 they were back in the Eliteserien where they have stayed since.
As of December 2007, Sparta once again assumed the top of the league table, and are closer than ever to win a title in Norwegian hockey, since the eighties.
Notable players:
Norway Champion: 1984,1989
League winners:
from 1928 to present: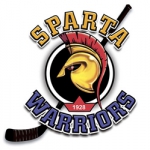 Results preseason Thursday August 13
Malmö Redhawks-Växjö Lakers 3-0, Djurgårdens IF-Skellefteå AIK 2-1, HPK-Luleå HF 3-1, Huddinge-AIK 0-4, Östersund-Timrå IK 4-3 (SO), Sparta Sarpsborg-BIK Karlskoga 1-6, Västerås-Vita Hästen 1-2 (SO), Björklöven-Asplöven 5-1.
(13 Aug 2015)
Five games and seven teams up for preseason games
Seven teams from the Swedish HockeyAllsvenskan will be up today and try to measure their strenghts.
Sparta Sarpsborg – Karlskoga, Huddinge – AIK, Björklöven – Asplöven, Östersund – Timrå and Västerås – Vita Hästen.
(13 Aug 2015)
Kristiansen to HV71
HV71 of Elitserien loans Sparta Sarpsborg's forward Tommy Kristiansen until the national team break (November 8).
(21 Oct 2011)
Historic rosters:
Historic statistics:
Past results:
League standings:
Fast facts
season 2023-2024
Kaunas City celebrate the qualification to the second round of Continental Cup with a ten-goals victory over Skautafelag Rejkyavik Read more»
Estonian champion wins KHL Zagreb ensuring first place for the home team Read more»