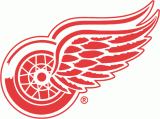 Detroit Red Wings
Year of foundation: 1926
Colours: red, white
Club status: active
Address: Detroit Red Wings
Joe Louis Arena
600 Civic Center Drive
Detroit, MI 48226
Phone: +1 313 983 6606
Did you find any incorrect or incomplete information? Please, let us know.
Season 2013-2014
This club in 2013-2014: NHL
Current roster
season 2013-2014
* no longer in the club

Adress: 600 Civic Center Drive,
Detroit, Michigan 48226
Capacity: 20066
Opened in: 1979
Founded in 1926, Red Wings are members of the Original Six founding teams of the NHL. Currently the most succesful US-based NHL franchise in Stanley Cup wins (11), third overall behind Montreal and Toronto. The popularity of the club has given the city of Detroit a nickname "Hockeytown".
Notable players:
from 1926 to 1930: Detroit Cougars
from 1930 to 1932: Detroit Falcons
from 1932 to present: Detroit Red Wings
League winners:

from 1900 to present: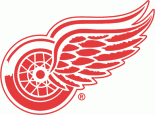 Zetterberg out for 8 weeks, Zuccarello for 4
The Tre Kronor and Detroit Red Wings captain Henrik Zetterberg had back surgery today and will be out of play for about 8 weeks.
New York Rangers forward Mats Zuccarello will miss 3-4 weeks with non-a displaced fracture in his left hand sustained while playing for Norway at the 2014 Sochi Olympics.
(21 Feb 2014)
Gustav Nyquist to replace Franzen
Sweden Hockey Federation announced injured Johan Franzen will be replaced in Olympics roster by his teammate at Detroit Red Wings Gustav Nyquist.
(04 Feb 2014)
No Sochi for Johan Franzen
Sweden won't count on Detroit Red Wings forward Johan Franzen at the Sochi Olympics because of a concussion. The 34-year-old forward played at the 2006 Turin Olympics, where Sweden won gold, and at Vancouver 2010.
Gustav Nyquist (Detroit Red Wings), Marcus Johansson (Washington Capitals) and Patric Hörnqvist (Nashville Predators) are the most probable subsitutes.
(30 Jan 2014)
Alfredsson leaves Ottawa after 17 years
After playing with the Ottawa Senators since 1995 Daniel Alfredsson has decided to leave the club for a last chance to win the Stanley Cup. Instead he has signed a year deal with Detroit Red Wings.
(06 Jul 2013)
Detroit Red Wings prospect is arrested for drunk driving
20-year-old Detroit Red Wings prospect Riley Sheahan was arrested October 29 in Grand Rapids and charged with driving with a high blood-alcohol level content, above .17, and giving false information.
The amount of alcohol in his blood is more than two times higher than the rate and Sheahan can get up to 180 days in prison.
At the trial, which took place on November 6, hockey player pleaded not guilty. The forward, who was chosen by Detroit in the first-round draft pick in 2010, was arrested for public intoxication during his freshman season at Notre Dame in 2010.
"I'm aware that Riley was charged with a DUI," Detroit general manager Ken Holland said. "We're handling it internally. He sat out a game. We've talked to him. We're aware of what's happened."
(14 Nov 2012)
Jonathan Ericsson to the Swedish third tier league
Jonathan Ericsson of Detroit Red Wings is the first NHL lock-out player to sign with a team in Division 1, the Swedish third league. He will join Vita Hästen, the club he represented as a junior, October 17.
(07 Oct 2012)
Nicklas Lidstrom hired as Red Wings scout
Former Detroit Red Wings defenseman Nicklas Lidstrom, retired in last May, will operate as team scout. The Red Wings announces that Lidstrom would likely be based in Europe.
(09 Jul 2012)
Tom Renney moves to Detroit
Tom Renney signed a two-years contract as assistant coach for the Detroit Red Wings. In the last two seasons Renney was Edmonton Oilers' Headcoach
(06 Jul 2012)
Defender Bryan Rufenach died
Defenseman Bryan Rufenach, a seventh-round draft pick of the Detroit Red Wings in the 2007 NHL entry draft, currently at Toledo Walleye of ECHL, died this week while traveling in Switzerland. He was 23.
Details of Rufenach's death have not been released, but The Lindsay Post has learned he suffered a fatal electrocution.
Walleye coach Nick Vitucci said in statement: "The entire team's thoughts and prayers are with Bryan's family as they get through this difficult time. Bryan was a great teammate and would play any role asked of him."
(07 Jun 2012)
Kronwall in, Sedin brothers out
Detroit Red Wings defender Niklas Kronvall will play for Sweden at the World Championship. Previously the player refused the invitation to the team because he is busy in building his new home. But then changed his mind and decided to postpone the construction after the end of the world championship. Vancouver Canucks' forwards Daniel and Henrik Sedin and defender Alexander Edler defender will not play for Sweden.
(27 Apr 2012)
Historic rosters:
Historic statistics:
Past results:
League standings:
Fast facts
season 2013-2014
Detroit Red Wings participates in season 2013-2014: NHL
Cardiff Devils won by one-goal-difference against home side Grenoble and advances to the Continental Cup Superfinals along with Nomad Astana Read more»
Kazakh champion closes the Continental Cup semifinals round with a perfect record, by beating HK Zemgale in the last game Read more»