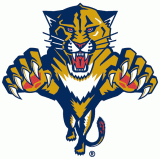 Florida Panthers
Year of foundation: 1993
Club status: active
Address: Florida Panthers
One Panther Parkway
Sunrise, FL 33323
Phone: +1 954 835 7000
Fax: +1 954 835 7600
Did you find any incorrect or incomplete information? Please, let us know.
Season 2022-2023
This club in 2022-2023: NHL
Current roster
season 2022-2023
* no longer in the club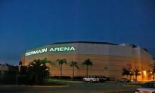 Adress: 1 Panther Pkwy,
Sunrise, Florida 33323
Capacity: 17040
Opened in: 1998
Panthers joined the NHL in 1993 and are the southernmost franchise in the league. Despite early success culminating with 1996 Stanley Cup finals appearance (lost to Colorado Avalanche 0-4), the club ranks among the worse in NHL measured in points percantage, having made playoffs only three times since their entrance into the league.
Notable players:
NHL Stanley Cup finals 1995-96
from 1993 to present: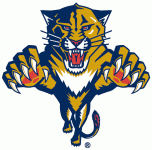 Tim Thomas accepted try-out at Panthers
Florida Panthers announced on twitter account former Boston Bruins goalie Tim Thomas accepts a PTO contract and will practice with the team from Tuesday
(16 Sep 2013)
Bergenheim returns to USA
HIFK's NHL lockout player Sean Bergenheim returns to USA after only two games (one goal) in SM-Liiga. He is injured and goes home to USA för rehabilitation. It is still not clear if he will return to HIFK.
(05 Oct 2012)
Injuries forced Kulikov and Zaripov out from IHWC
Florida Panthers defender Dmitri Kulikov and Ak Bars Kazan forward Danis Zaripov won't travel to Sweden for upcoming IHWC. Both players are injured
(01 May 2012)
Goc and Kopecky in Sweden, Fleischmann and Cervenka out
Florida Panthers forwards Marcel Goc and Tomas Kopecky will be at the upcoming World Championship, as inform the Panthers official twitter
Goc will play for Germany, and Kopecky will defend the colors of Slovakia.
Avangard Omsk Czech forward Roman Cervenka won't be in Sweden due to an injury. He has a broken finger on his left hand. For the same injury also Florida Panthers Tomas Fleischmann won't be able to join Czech national team
(28 Apr 2012)
NHL fines Torres, Del Zotto and Kopecky
Phoenix Coyotes forward Raffi Torres has been fined $2,500 by the NHL for a hit on defenseman Jan Hejda during second period in Colorado Avalanche's 3-2 over the Coyotes
Also New York Rangers defenseman Michael Del Zotto and Florida Panthers forward Tomas Kopecky were also both fined $2,500 for their altercation in the Rangers' 4-1 win Friday night.
(01 Jan 2012)
Bracken makes NHL debut at 30
Kearns Bracken stepped into his very first NHL game today. The Florida player made his debut in the game against the Buffalo Sabers at the age of 30. Until now Bracken played in AHL for San Antonio Rampage (2011-12: 3p.(3+0) and 2PIM in 3 games). Bracken is the 12th player to debut at an age over 30 since 2000-01.
(21 Oct 2011)
Rio Grande Valley announces affiliation
The Rio Grande Valley Killer Bees of the Central Hockey League (CHL) announces the first affiliation in team history.
For the 2011-12 season, the Killer Bees will be affiliated with the Florida Panthers of the National Hockey League (NHL) and San Antonio Rampage of the American Hockey League (AHL).
(31 Aug 2011)
Historic rosters:
Historic statistics:
Past results:
League standings:
Fast facts
season 2022-2023
Florida Panthers participates in season 2022-2023: NHL
The second victory against SA Akureyri leads Sisak very close to the qualification Read more»
A memorable debut for the Croatian champions in the Continental Cup Read more»