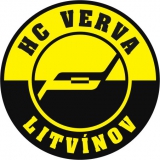 HC Verva Litvínov
Short name: Litvínov
Name in original language: HC VERVA Litvínov
Year of foundation: 1945
Colours: black, yellow
Club status: active
Address: S. K. Neumanna 1598
436 01 Litvínov-Horní Litvínov
Phone: +420 476 767 219
Fax: +420 476 732 243
Email: info@hcltv.cz
Did you find any incorrect or incomplete information? Please, let us know.
Season 2022-2023
Current roster
season 2022-2023
* no longer in the club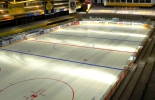 Adress: S. K. Neumanna 1598
436 01 Litvínov - Horní Litvínov
Capacity: 7000
Opened in: 1955
The club has been in Extraliga since 1959 and has a tremendous reputation for nurturing young talent, 23 players from Litvinov have appeared in NHL, more than from any other club in Czech Republic. Some of the big names include Ivan Hlinka, Jiri Bubla, Vladimir Ruzicka, Robert Reichel or Robert Lang. Despite all excellent prospects coming up through Litvinov ranks, the club won a domestic title only once, in 2014/15 season.
Notable players:
from 1945 to 1954: SK SZ Horní Litvínov
from 1954 to 1962: Jiskra SZ Litvínov
from 1962 to 1990: CHZ Litvínov
from 1990 to 1991: HC CHZ Litvínov
from 1991 to 1994: HC Chemopetrol Litvínov
from 1994 to 1996: HC Litvínov
from 1996 to 2007: HC Chemopetrol
from 2007 to 2009: HC Litvínov
from 2009 to 2011: HC Benzina Litvínov
from 2011 to present: HC Verva Litvínov
1st place 2015
2nd place 1978, 1984, 1991, 1996
League winners:
from 1990 to present: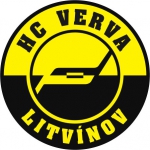 Litvinov fined for fans' conduct
Czech Extraliga Disciplinary Committee punished Litvinov with a fine of ten thousand crowns for the conduct of spectators during the match against Pardubice. Litvinov fans committed unsportsmanlike conduct, plus throwing objects on the ice rink.
(19 Nov 2012)
Litvinov fires second coach in one season
HC VERVA Litvinov has announced another coaching change this season. Jiri Kucera, who previously succeeded Vladimir Kyhos, was fired by the club management and replaced by Vladimir Jerabek. Litvinov find themselves in 12th place, just two points above the last placed team, with five regular season games to go.
(07 Feb 2012)
Karlovy Vary names Vladimír Kýhos new coach
Václav Baďouček was fired as Karlovy Vary head coach and replaced by Vladimír Kýhos, former Litvinov coach. Martin Pešout and Pavel Kněžický will remain as assistant coaches. Karlovy Vary also named Jaromír Látal as sport manager. "The aim of both measures is to improve the team's performance and move from last place" said club general manager Miroslav Vanek.
(01 Jan 2012)
Start of Czech Extraliga postponed
Originally, Tipsport Extraliga would start this Friday, Sep 16, with seven games. Because of Yaroslavl jet crash all the first round games are postponed. "Jan Marek, Karel Rachůnek and Josef Vašíček were friends of many Czech Extraliga players. Their friends would be unable to attend Jan Marek's funeral if we will make them play hockey on Friday," Czech Extraliga head commisioner Stanislav Šulc said. New dates for the games is unknown, the clubs will arrange date of their 1st round games themselves.
The Czech top-level ice hockey competition will start on Sunday, Sep 18, with games of the second round.
(12 Sep 2011)
Historic rosters:
Historic statistics:
Past results:
League standings:
Fast facts
season 2022-2023
Cardiff Devils won by one-goal-difference against home side Grenoble and advances to the Continental Cup Superfinals along with Nomad Astana Read more»
Kazakh champion closes the Continental Cup semifinals round with a perfect record, by beating HK Zemgale in the last game Read more»