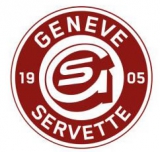 Genève-Servette HC
Year of foundation: 1905
Colours: bordeaux, white
Club status: active
Address: Chemin de la Gravière 6
CH-1227 Les Acacias / Genève
Phone: +41 22 338 30 00
Fax: +41 22 338 30 01
Email: info@gshc.ch
Did you find any incorrect or incomplete information? Please, let us know.
Season 2022-2023
Current roster
season 2022-2023
* no longer in the club
Adress: Patinoire des Vernets
rue Hans-Wilsdorf 4-6
CH-1227 Les Acacias
Phone: +41 22 418 40 00
Capacity: 7285
Opened in: 1958
Retired numbers:
12 Philippe Bozon
from 1905 to 2011: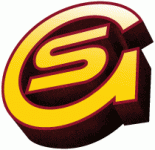 from 2011 to present:
Schedule for Spengler Cup 2014 unveiled
The 88th edition of the Spengler Cup will open with the Genève Servette agains the KHL Team Salavat Yulaef Ufa. The evening game will show case two fan favourites: HC Davos will face Team Canada. Here are the two groups and all the games:
Group Torriani: Genève Servette, Salavat Yulaef Ufa, Jokerit Helsinki
Group Cattini: HC Davos, Team Canada, Medvescak Zagreb
Friday, 26.12.2014:
G 1: Genéve Servette-Salavat Yulaef Ufa / G 2: HC Davos-Team Canada
Saturday, 27.12.2014:
G 3: Jokerit Helsinki-Looser Game 1 / G 4: Medvescak Zagreb- Looser Game 2
Sunday, 28.12.2014:
G 5: Winner Game 1-Jokerit Helsinki / G 6: Winner Game 2-Medvescak Zagreb
Monday, 29.12.2014:
G 7: 2. Group Torriani-3. Group Cattini / G 8: 2. Group Cattini-3. Group Torriani
Tuesday, 30.12.2014:
G 9: 1. Group Cattini-Winner Game 7 / G 10: 1. Group Torriani-Winner Game 8
Wednesday, 31.12.2014:
G 11: Winner Game 9-Winner Game 10
(22 Sep 2014)
Spengler Cup participants unveiled
Cup holder Genève-Servette, Team Canada, Salavat Yulaev Ufa, Jokerit Helsinki, Medvescak Zagreb and Davos are the teams that will compete in next Spengler Cup, as announced by tournament organization. Croatia will debut in Spengler Cup, while Jokerit Helsinki will return in Switzerland after 11 years.
(08 May 2014)
Servette and Vitkovice add players for Spengler
Geneve Servette announces the addition of goalie Robert Mayer (Hamilton Bulldogs), Finnish defenceman Markus Nordlund and forward Inti Pestoni - both from Ambrì-Piotta - for the upcoming Spengler Cup. Also, Czech club Vitkovice will have a Swiss player for the tournament, Kloten Flyers' defenceman Gian-Andrea Randegger.
(20 Dec 2013)
Servette retires Daniel Clerc's number
Geneve Servette announces club will retire former goalie Daniel Clerc's number 0 during 23 December game against Rapperswil. Clerc played for Servette from 1964 to 1974, winning a Swiss Cup in 1972. He counts also 38 caps with Switzerland national team
(19 Dec 2013)
Spengler Cup participants officially announced
Genève-Servette, Rochester Americans, HC Vitkovice Steel, Team Canada, HC Davos and CSKA Moscow were officially announced as participants at the 87th Spengler Cup, held in Davos (SUI) from 26 to 31 December 2013.
(19 Aug 2013)
Chris Campoli won't go to Geneve?
According to sportsnet Canadian defender Chris Campoli won't play with Geneve Servette, despite the one-year-contract signed last week due to problems with his working visa
(11 Feb 2013)
Doug Shedden/Chris McSorley to coach Team Canada
EV Zug coach Doug Shedden will serve as Team Canada headcoach at next Spengler Cup. He was Marc Crawford assistant coach at last year tournament. Geneve-Servette Chris McSorley will work as assistant coach
(08 Nov 2012)
Sébastien Beaulieu new goalies' coach for France
Geneve Servette goalies coach Sébastien Beaulieu signed a three-years deal with France Federation. Canadian coach will be the supervisor for national team, U20, U18 and U16 teams goalies'.
(12 Aug 2012)
Servette cuts distance
In Sunday`s two NLA games Genève-Servette HC used the chance to come even closer to EHC Biel which is on the last playoff spot. While Biel lost 2-4 at home against top team EV Zug, Genève won its away game against record champion HC Davos 3-2 after shootout. Now Genève is only three points behind Biel.
(23 Jan 2012)
Dan Fritsche out for 4-6 weeks
Dan Fritsche of Genève-Servette in NLA suffered a shoulder injury in Tuesday's game against Biel and will be out of play for 4-6 weeks.
(19 Oct 2011)
Historic rosters:
Historic statistics:
Past results:
League standings:
Fast facts
season 2022-2023
The captain Lukas Zukauskas shines in the home team triumph Read more»
in a pleasing match the Croatian champions beat a combative Reykjavik Photos by Evaldas Šemiotas Read more»