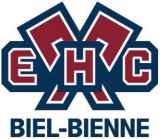 EHC Biel
Year of foundation: 1939
Colours: red, blue
Club status: active
Address: Bahnhofstrasse 17
Postfach
CH-2501 Biel
Phone: +41 32 328 37 37
Fax: +41 32 328 37 30
Email: hotline@ehcb.ch
Did you find any incorrect or incomplete information? Please, let us know.
Season 2016-2017
Current roster
season 2016-2017
* no longer in the club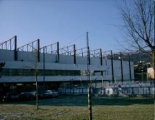 Adress: Eisstadion
Länggasse 71
CH-2504 Biel
Phone: +41 32 341 35 55
Capacity: 6200
Opened in: 1973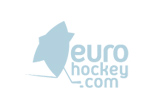 Adress: Boulevard des Sports 18
2504 Biel
Phone: 032 329 19 19
Email: info@ctsbiel-bienne.ch
Capacity: 6521
Opened in: 2015
from 1939 to 1947: Eis-Hockey-Club Biel
from 1947 to 1948: EHC Tornado Biel
from 1948 to present: EHC Biel
from 1939 to 2015: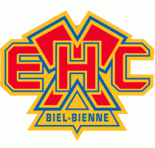 from 2015 to 2017: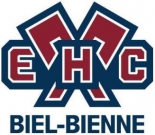 from 2017 to present: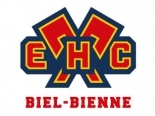 Biel fires head coach
Switzerland's EHC Biel decided to part ways with longtime head coach Kevin Schläpfer on Monday. The 46 year old previously had held various positions in the current NLA club, including player and manager before being named head coach in 2010. Until further notice youth coach Mike McNamara will be his replacement.
(16 Nov 2016)
Jim Vandermeer suspended 6 games
The disciplinary committee of Swiss Ice Hockey Federation ruled a six-game suspension for Kloten Flyers defender Jim Vandermeer for the charge against the head of Mathieu Tschantré during the match of December 22, 2014 between HC Biel and Kloten. In addition, a fine of CHF 1,500 was imposed on the Canadian defender.
(03 Jan 2015)
Thomas Wellinger at Spengler with Vitkovice
EHC Biel Swiss defender Thomas Wellinger will play Spengler Cup with Czech team HC Vitkovice.
Wellinger is the sixth Biel player to play the traditional tournament, besides Reto Berra and Patrick Kane (HC Davos), Jacob Micflikier, Marc-Antoine Pouliot and Tyler Seguin (Team Canada)
(21 Dec 2012)
Michael Del Zotto leaves Rapperswil, Kane and Nash are the next?
Rapperswil Lakers announces defender Michael Del Zotto left the team and goes back to US to treat a back injury. According to some Swiss media Del Zotto won't go back in Switzerland.
According other rumours also Patrick Kane (Biel) and Rick Nash (Davos), currently back at home during international break, could not return in NLA
(11 Dec 2012)
Stanley Cup winner joins Tyler Seguin in Biel
Chicago Blackhawks Patrick Kane posponed in September the intention to play in Europe. He wanted to wait until middle October to see how the lockout goes. Seing that nothing happens his agent Pat Brisson started to ask European clubs the interess to his star player. Finally Kane signed with Swiss club EHC Biel, where he will play for a long has lockout goes. He will join also Stanley Cup Winner Tyler Seguin (10g, 6g, 7a).
(24 Oct 2012)
Martin Steinegger named new Sport Director at Biel
Few days after announced his retirement as active player at 40 years, former defender Martin Steinegger was named new EHC Biel Sport Director.
(15 Mar 2012)
Servette cuts distance
In Sunday`s two NLA games Genève-Servette HC used the chance to come even closer to EHC Biel which is on the last playoff spot. While Biel lost 2-4 at home against top team EV Zug, Genève won its away game against record champion HC Davos 3-2 after shootout. Now Genève is only three points behind Biel.
(23 Jan 2012)
NLA game stopped will be replayed in January
The game between ZSC Lions and EHC Biel in Swiss NLA that stopped after 27 minutes because of fog in the arena will be replayed on January 24 at 19:45. The sScore was 0-0 when the game was stopped.
(20 Sep 2011)
NLA game stopped because of fog in the arena
Today's game between ZSC Lions and EHC Biel in Swiss NLA had to be stopped after 27 minutes because of fog in the arena. The score was then still 0-0.
(17 Sep 2011)
Historic rosters:
Historic statistics:
Past results:
League standings:
Fast facts
season 2016-2017
Cardiff Devils won by one-goal-difference against home side Grenoble and advances to the Continental Cup Superfinals along with Nomad Astana Read more»
Kazakh champion closes the Continental Cup semifinals round with a perfect record, by beating HK Zemgale in the last game Read more»