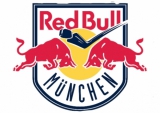 EHC Red Bull München
Short name: Red Bull München
Year of foundation: 1998
Colours: blue, white, yellow, black
Club status: active
Address: EHC Red Bull München GmbH
Osterwaldstrasse 10
80805 München
Phone: +49 089 30 66 91 - 00
Fax: +49 089 30 66 91 - 04
Did you find any incorrect or incomplete information? Please, let us know.
Season 2023-2024
Current roster
season 2023-2024
* no longer in the club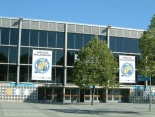 Adress: Im Olympiapark
Spiridon-Louis-Ring 3
80809 München
Phone: +49 089 30 67-0
Email: info@olympiapark.de
Capacity: 6186
Opened in: 1967
from 1998 to 2004: HC München 98
from 2004 to 2012: EHC München
from 2012 to present: EHC Red Bull München
from 1998 to 2012:
from 2012 to present: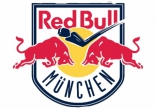 Adler Mannheim wins DEL finals
Adler Mannheim beat Red Bull München in overtime tonight to win the German DEL final series 4-1 after losing game one.
Thomas Larkin scored the title-winning goal at 73:37.
(26 Apr 2019)
Munich without two top players for weeks
Injuries are continuing to be a serious problem for several championship contenders in Germany's DEL. Red Bull Munich have to play without their starting goalie Danny aus den Birken - who is also a regular in the German national team - and forward Steve Pinizzotto - who is their best plus/minus player of the current season - during the next weeks. Both players suffered leg injuries this week and a date for their return is not yet scheduled. Now a total of 7 regulars are out with injuries for the Red Bulls.
(25 Oct 2015)
Niklas Treutle to play in NHL
EHC Red Bull München lost their goalie talent Niklas Treutle. The club and the goalie ended the contract so that the player can join the Arizona Coyotes organization to chase his NHL dream. He is the second DEL goalie to join the Arizona Coyotes organization this summer after Tyler Beskorowany (Düsseldorfer EG) who will play for their AHL farmteam Springfield Falcons. München already had signed a good replacement in German national goalie Danny aus den Birken.
(31 Jul 2015)
Don Jackson confirmed at Salzburg
The rumour it's now confirmed by Red Bulls: former Eisbaren Berlin coach Don Jackson is the new headcoach of Austrian team. The 56-year-old American has enjoyed a very successful six-year stint as head coach of the Eisbären Berlin, winning 5 DEL titles, the last three consecutive and an European Trophy. In Salzburg he replaces Pierre Pagé, who left the team after six seasons, three EBEL titles and a Continental Cup, to join Red Bull München.
Couriously Jackson come to Berlin in 2007 replacing Pierre Pagé as head coach and subsequently taking the Eisbären to five German championship titles (DEL).
(03 Jun 2013)
The season ends for Noah Clarke
The EHC München (DEL) forward Noah Clarke needs shoulder surgery and is out for the season.
(16 Nov 2011)
Historic rosters:
Historic statistics:
Past results:
League standings:
Fast facts
season 2023-2024
Cardiff Devils won by one-goal-difference against home side Grenoble and advances to the Continental Cup Superfinals along with Nomad Astana Read more»
Kazakh champion closes the Continental Cup semifinals round with a perfect record, by beating HK Zemgale in the last game Read more»