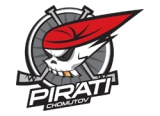 Piráti Chomutov
Short name: Chomutov
Name in original language: Piráti Chomutov
Year of foundation: 1945
Colours: blue, white, red
Club status: active
Address: Tolstého 738
Chomutov 430 01
Phone: +420 474 624 338
Fax: +420 474 624 224
Email: klub@piratichomutov.cz
Did you find any incorrect or incomplete information? Please, let us know.
Season 2023-2024
Current roster
season 2023-2024
* no longer in the club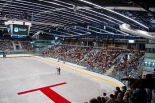 Adress: Mostecká 5773
Chomutov
430 01
Phone: +420 474 635 950
Capacity: 5200
Opened in: 2011
The club enjoyed long years in top division between 1952 and 1974, the biggest success being 2nd place in 1956. Chomutov remains one of the main contenders for promotion from 1.liga, enjoying a very good financial support and a brand new stadium built in 2010.
from 1945 to 1949: CSK Chomutov
from 1949 to 1951: ZJS SO Chomutov
from 1951 to 1953: Sokol Hute Chomutov
from 1953 to 1958: TJ Banik Chomutov ZFJ
from 1958 to 1960: Banik VTZ Chomutov
from 1960 to 1991: VTZ Chomutov
from 1991 to 1996: VT VTJ Chomutov
from 1996 to 2011: KLH Chomutov
from 2011 to present: Piráti Chomutov
from 1996 to 2011: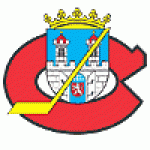 from 2011 to present: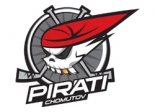 Vladimir Ruzicka signed for ten years with Chomutov
Czech Republic national team headcoch Vladimir Ruzicka signed a ten years contract with Extraliga newly promoted Chomutov Pirates putting an end to the rumours about his sign with Avangard Omsk. Former coach Břetislav Kopřiva and Jan Stastny will be the assistants. Until now Ruzicka coached only Slavia Praha and Czech National Team
(21 May 2015)
Jason Chimera goes back to US...for now
Washington Capitals forward Jason Chimera, who signed a lock-out contract with Extraliga team Chomutov, decided to leave the Czech team after 5 games
"He realized he can't live far from his family, especially Jason missed children" - commented the player's agent Allan Walsh.
If the NHL season is canceled, Chimera can return to the Czech Republic with his family and continue to play with Chomutov
(28 Nov 2012)
Chomutov Pirati fined for racist acts
The Czech Extraliga fined this Tuesday Chomutov club in 30,000 crowns (1500 dollars) for racists acts against Philadelphia Flyer Wayne Simmonds. The Canadian player just signed a contract last week with Liberec during the lockout. On Sunday during his third game after a fight between the Canadian player and the Chomutov Miroslav Zalesak some home team fans begin to chanting "opice" a Czech word for "Monkey". After the game both clubs released statement condemning those acts.  Because the way that Chomutov reacted to the situation the fine was lower than normal.
(31 Oct 2012)
Pirati Chomutov joins European Trophy
Pirati Chomutov replaces Slavia Praha in the 2012 European Trophy.
(18 Jun 2012)
Usti crushes Chomutov to win Czech 1. liga
The final battle of two strongest teams in Czech 1. liga became a surprisingly one-sided affair. Usti nad Labem swept Chomutov aside in four straight games (2-1, 5-4, 3-2, 4-1) to win the league. Last season, the same pair fought a seven-game series with Chomutov becoming an eventual winner. Usti now advances to the best-of-seven series against Mlada Boleslav for a spot in Extraliga for next season. The series starts on 6th April.
(26 Mar 2011)
Historic rosters:
Historic statistics:
Past results:
League standings:
Fast facts
season 2023-2024
Cardiff Devils won by one-goal-difference against home side Grenoble and advances to the Continental Cup Superfinals along with Nomad Astana Read more»
Kazakh champion closes the Continental Cup semifinals round with a perfect record, by beating HK Zemgale in the last game Read more»