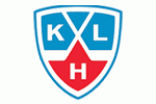 KHL
League status: Active
English name: Континентальная Хоккейная Лига
Administered by: Kontinental Hockey League
Head manager: Aleksandr Medvedev
Year of start: 2008
Did you find any incorrect or incomplete information? Please, let us know.
Last updated: 22 Nov 2017, 22:15
During the regular season, each team plays 56 games: four games against each of the teams in their own division (for a total of 20 games) and two games against each of the other teams (for a total of 36 games).

The eight top-ranked teams in each conference receive playoff berths. Within each conference quarterfinals, semifinals and finals are played before the conference winners play against each other for the Gagarin Cup. The division winners are seeded first and second in their conference, based on their regular season record. All playoff rounds are played as best-of-seven series. In each round, the top seeded remaining team is paired with the lowest seeded team etc. This playoff structure is very similar to the current format of the NHL playoffs. In the playoffs, overtime periods last 20 minutes (or until a goal is scored). The number of overtime periods is not limited.

This playoff format does not allow the strongest teams to take the topmost positions in the KHL final standings when these teams are from the same conference. This is because the format makes the conferences equally represented in top two, four, eight and sixteen spots of the final standings, regardless of the relative strength of the conferences.
No automatic promotion/relegation. New applicants are examined by KHL board
The Kontinental Hockey League (KHL) is an international professional ice hockey league in Eurasia founded in 2008. As of 2009, it is ranked as the strongest hockey league in Europe

The title of Champion of Russia, regardless of which nation the club represents, and the Gagarin Cup, named after the first man to reach space and orbit the Earth, cosmonaut Yuri Gagarin, are awarded annually to the league champion, following a 16-team playoff at the end of the regular season. Two teams from the KHL were guaranteed qualification into the Champions Hockey League season.

The league was formed in 2008, from a predecessor organization, the Russian Superleague (RSL). The RSL, in turn, was a successor to the Soviet Championship League, which was founded in 1946 with only five teams. The KHL began its operations with 24 teams. After minor changes in the composition of the Russian teams and even a reduction to 23 teams in the 2010-11 season, the league will be back to 24 teams in the 2011-12 season. Of these teams, 20 are based in the Russian Federation and 4 more are located in Belarus, Latvia, Kazakhstan and Slovakia.
New hockey season started today
Almost three months after the KHL finals, the hockey season in Russia re-started today with the first friendly game of the summer: in Astana, Kazakhstan, local KHL team Barys lost 2-6 against Torpedo Ust-Kamenogorsk.
As every silly season, follow all the preparation games and tournaments on pre-season games page on Eurohockey
(14 Jul 2017)
Also in KHL overtime will now be decided 3-on-3
From Thursday, December 15, KHL regular season games which are tied at the end of regulation will progress to a 3-on-3 overtime.
(14 Dec 2016)
Poprad changes coach
Due to unsatisfactory results in Extraliga, Poprad decided to change coaching staff, firing headcoach Petr Jonak and assistant Ludovit Jurinyi. New coach is Marcel Ozimák, recently fired as assistant coach at Avtomobilist Yekaterinburg. His assistant will be Frantisek Štolc
(07 Nov 2016)
Two KHL clubs replaced coach
Avtomobilist Yekaterinburg and Neftekhimik Nizhnekamsk fired coaches due to poor results and annouced new coaching staff.
Avtomobilist - 12th in East Conference - fired coach Andrei Razin and assistants Oleg Leontiev, Alexei Mitroshin and Alexander Urakov, after 12 defeats in last 16 matches. Former Neftekhimik Nizhnekamsk Vladimir Krikunov was named new head coach, with Ivan Krivonosov and Oleg Mikulchik as assistants.
Neftekhimik accepted the resignation of Nikolai Solovyov on Octber 28 and announced former Barys Astana and Kazakhstan coach Andrei Nazarov as new coach. Andrei Potaichuk and Igor Petrov will serve as assistants
(01 Nov 2016)
Defeat in first ever game for Kunlun
New KHL team, Red Star Kunlun from Beijing, played its first ever game today in Vierumäki, Finland against Traktor Chelyabinsk. The Chinese team lost 0:2, postponing the scoring of first historic goal. Maxim Yakutsenya and Aleksandr Sharov scored for Trakto. Next Red Star Kunlun game will be on July 28 against Spartak Moscow. Follow all the pre-season games on eurohockey
(24 Jul 2016)
Odins wins the Golden Whistle
Latvian Eduards Odins, 40, wins the Zolotoy svistok (Golden Whistle) award as the best referee of the KHL. It's the fourth trophy for Odins
(24 Jul 2016)
Barys confirmed camp in Switzerland
After a first statement announcing the cancellation of training camp in Switzerland due the delay in the journey bacause of political situation in Turkey, Barys Astana confirmed today the team arrived in Davos. During the camp team will play three pre-season games, 2 against HC Davbos and one versus Vityaz.
(20 Jul 2016)
Barys Astana cancelled training camp in Switzerland
Due to the difficult political situation in Turkey (through which the flight had been planned), Barys Astana cancelled the first part of pre-season training camp, planned in Switzerland. Pending a decision of logistic issues players will continue to prepare for the season in Astana.
Barys scheduled two games with Davos for last week of July, but wasn't yet released an official statement about confirmation
(17 Jul 2016)
Slovan and Sochi out from KHL playoffs
Slovan Bratislava and HC Sochi were the two first team eliminated from the KHL playoffs 1/8 finals. Slovan lost the series 0-4 to CSKA Moscow while Sochi also lost 0-4 to Dynamo Moscow. Tomorrow Neftekhimik and Admiral also risk being eliminated.
(27 Feb 2016)
Oleg Bratash is the head coach of the Russian Olympic national team
- fhr.ru
Oleg Bratash has been named head coach of the new special Russian Olympic national team. The ex Krylya Sovetov, CSKA and Torpedo Nizhny Novgorod goaltender is currently a member of the HC Lokomotiv Yaroslavl coaching staff, and will begin his new job after his contract in Yaroslavl runs out. The agreement with the Olympic national team runs until spring 2018.
Chairman of the RIHF board Arkady Rotenberg: "We are very happy that such a coach will work with our younger, talented players, Oleg has worked in the MHL, won the Kharlamov Cup with Spartak Moscow, and has worked as an assistant in big clubs. We are sure, that his experience will help our young players use their potential. He was picked for the job after consulting with the main national team's coaches. The Olympic national team's preparation will form a part of our united system, and along with Valery Bragin Oleg will form squads as well as working together in different aspects."
(13 Feb 2016)
Past league results:
League standings:
Historic statistic:
Individuals records:
Fast facts
season 2017-2018
Youngest player: Janis Voris (18 years)
Oldest player: Pavel Datsyuk (40 years)
Shortest player: Igor Geraskin (164 cm)
Tallest player: Marko Anttila (203 cm)
Nationalities: Belarus (38), Canada (52), Croatia (1), Czech Republic (32), Denmark (6), Finland (46), Israel (1), Kazakhstan (28), Latvia (29), Lithuania (2), Poland (1), Russia (656), Slovenia (4), Slovakia (23), Sweden (26), Ukraine (3), USA (19)
Highest win: Yugra Khanty-Mansiysk - SKA St. Petersburg 1-9
Season average attendance: 5997
Winning 2-1 against host Rungsted, Yunost keeps the perfect record proposing as favourite for the Superfinals Read more»
The final continental cup group game took place in Rungsted between Sheffield Steelers of Great Britain and Kurbads Riga of Latvia. Read more»