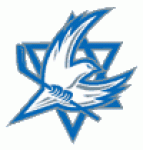 Did you find any incorrect or incomplete information? Please, let us know.
Last updated: 24 Nov 2017, 16:58
Israel League started
Israel League started this week with a spectacular game between Raanana Hitman and HC Bat Yam, decided by a power play goal at minute 57 by Joshua Greenberg. For Raanana weren't enough 4 goals by Eli Tilson for the 5-6 final score.
Silver medalist Kfar Saba Horses will debut againstNes Ziona Dragon
2017-2018 Israel League alligns 10 teams, with the newly formed Holon Ninjas replacing HC Metula.
As usual eurohockey will follow all the games of Israel League with gamesheets, rosters and stat
(19 Oct 2017)
HC Bat Yam wins title in Israel
HC Bat Yam wins Israel championship by beating 6-3 Monfort Maalot in the grand final. It's the second title in the history of the club since the first, won in 1995. In the semifinal Bat Yam, finished fourth in the regular season, surprisingly won 7-2 against season dominator Horses Kfar Saba, while Maalot caused another surprise by beating last-three-seasons champion Rishon Devils.
Rishon wins bronze winning 8-5 against Kfar Saba
Kfar Saba Russian forward Viktor Vorobiev was the top scorer with 24 points (19+5)
(13 Jun 2016)
Maccabi Metulla wins Israeli League
By beating Icebergs Bat Yam 2-1 at shoot-outs Maccabi Metulla, coached by Semion Yakubovich, wins its first ever Israeli League title. Game final flows very dramatic. In the second period, Iceberg opened the score after the team's defender Nisan Butbol going out by one on one with the Maccabi goalie Alex Aronov. With 12 seconds before the end of the game Artem Korotin (Maccabi) equalized the score. Score did not change in over time, and in the series of penalty shoot Korotin again was accurate and realized his try
(29 Apr 2012)
Past league results:
League standings:
Historic statistic:
Individuals records:
Fast facts
season 2017-2018
Winning 2-1 against host Rungsted, Yunost keeps the perfect record proposing as favourite for the Superfinals Read more»
The final continental cup group game took place in Rungsted between Sheffield Steelers of Great Britain and Kurbads Riga of Latvia. Read more»