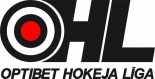 Optibet Hokeja Liga
League status: Active
English name: Latvian League
Administered by: Latvijas Hokeja federācija
Head manager: Edgars Buncis
Year of start: 1991
WWW: https://lhf.lv
Did you find any incorrect or incomplete information? Please, let us know.
Last updated: 27 Mar 2020, 21:51
-30 match Regular Championship
-Top two clubs advance Semi-finals, seeds 3-6 play First Round
-First and Semi-finals Best of 5
-Finals are Best of 7
from 1931 to 2006: Latvijas Virslīgas
from 2006 to 2008: Samsung Premjerlīga
from 2008 to 2017: Latvijas Virslīgas
from 2017 to present: Optibet Hokeja Liga
HK Kurbads confirms title in Latvia
HK Kurbads confirm the title in Latvijas Virslīga by sweeping underdog JLSS Zemgale 4-0 in the series, winning 1-0 game #4 with decisive goal by Gatis Gricinskis. Zemgale made sensation knocking out regular season winner HK Mogo in the semifinals, while Kurbads eliminated HK Liepaja. It's the second title in the history of the club, based outside of Riga.
HK Liepaja Edgars Homjakovs finished as top scorer with 39 points (10+29)
(17 Mar 2018)
Viking Tallinn not accepted in Latvian League
The request of Viking Tallinn to play in next Latvian League was rejected as reported by newspaper Delfi. Expelled by Estonian Meistriliga after the regular season for debts belonging to ceased club Viking Sport but that the club had promised to pay.
"We have been negotiating with representatives of the Latvian Ice Hockey Federation for performing in the Latvian League - said Viking representative Anatoli Sizov - A few days ago we received a reply from Riga. Unfortunately, we won't play in the championship of Latvia because our request was denied"
Expelled from Estonia League and rejected by Latvia, Sizov admits the club still doesn't know where to play next season: "The preparation for the new season will start probably in late July Where we are going to play? We are looking for options."
(08 Jul 2015)
HS Rīga '98 will play in Latvian Virsiliga
Latvian 1 Liga finalist HS Rīga '98 will play next season in Virsliga, lead by coaches Leonids Beresnevs and Andrejs Ignatovičs. The roster will be composed mostly by 1997 and 1998 born players
(29 Jun 2015)
Aigars Cipruss named new coach of Neman Grodno
Latvian Aigars Cipruss, 42, is the new coach of Belarusian champion Neman Grodno. Last season Cipruss headed Baltica Vilnius in MHL before the team was disbanded and Kurbads in Latvian League, winning the silver medal. He worked also as assistant coach at national team of Lithuania in last IHWC Division Ib
(02 Jun 2014)
Latvian League with 6 or 7 teams
Six teams confirmed their participation at the next Latvian League: HK Kurbads, Dinamo/Juniores (new name of HK Juniores) HK JLSS Zemgale, HS Riga/Prizma, HK Daugavpils and Ozolnieki/Monarch. HK Tukums' participation is still in doubt.

Last champion SMS Credit isn't in the starting grid after having waived the participation at next Continental Cup. Also Riga '97 and Liepaja Metalurgs won't play in next edition beginning September 7.
(14 Aug 2013)
Metalurgs Liepaja won't play in 2013-14
Latvian Federation Sports Director Mārtiņš Pagodkins announces Liepaja Metalurgs will be inactive in next season, not competing in any category.
Last spring team's main sponsor, steel company Metalurgs, decided to cease the support for senior hockey team and to abandon Belarus Open League and MHL-B. However, the club at that time assured they were determined to grant a team in Latvian League. But plans for participation at the league did not materialize due to economic problems of Metalurgs
(13 Aug 2013)
HK Kurbads will play in Latvian Virsliga
HK Kurbads from Riga will enter for the first time in next Latvian Virsliga.
"HK Kurbads is in the Latvian hockey business from more than 16 years. Now is the right time to take this step for the club and become one of the Latvian championship participants. Teams will be composed of several well-known and experienced hockey players, but the place will definitely be given to new players. Our goal in the first season will win the championship" said Manager Edgars Svencis
Team will be coached by former Juniors Riga coach Aigars Razgals
(06 Aug 2013)
SMS Credit wins first ever title in Latvia
By beating 1-0 HK Juniors Riga in playoffs final game #3, SMS Credit Riga closes the series 3-0 and captures its first title in Latvian League. After two consecutive victories by Liepaja Metalurgs, title is back in the capital
(25 Mar 2013)
Ozolnieki Monarch and Metalurgs 2 advance to semifinals
Ozolnieki/Monarch and champion Metalurgs Liepaja 2 need just two games to knock out Prizma Riga and Zemgale and advance to Latvian League semifinals. Ozolnieki won two games 9-3 and 4-0, while Metalurgs, alligning players from main team, crushed Zemgale 7-2 and 3-0.
Semifinals will see regular season champion SMS Credit against Metalurgs and Ozolnieki - HK Juniors Riga
(14 Mar 2013)
Tom Coolen and Aigars Cipruss named Latvian National Team Assistant Coaches
Latvian Federation anounces Tom Coolen and Aigars Cipruss were named National Team head coach Ted Nolan assistants
58-year-old Canadian Tom Coolen coached in North America and Europe, included teams in DEL (Kaufbeuren), NLA (Ambri-Piotta and Lausanne), SM-Liiga (HIFK Helsinki) and EBEL (Feldkirch). "Coolen is in the world of hockey from more then 30-years, he will be a good assistant to Nolan and certainly strengthen the Latvian hockey staff" said LHF President Kirovs Lipmans.
40-year-old Aigars Cipruss was Latvian U20 team assistant coach in the last two years after having played for 17 years for Latvia, closing his international career with. 172 caps and 112 (50 +62) points. He is still active in domestic League with HK Ozolnieki/Monarch
Both newly appointed coaches will debut on November 9th when Latvia will play against russia at Arena Riga.
(31 Oct 2012)
Past league results:
League standings:
Historic statistic:
Individuals records:
Fast facts
season 2019-2020
Youngest player: Artūrs Krišs Avotiņš (16 years)
Oldest player: Nikolajs Sirotkins (57 years)
Shortest player: Iļja Žučkovs (158 cm)
Tallest player: Andrei Nesterov (196 cm)
Nationalities: Belarus (1), Czech Republic (1), Estonia (1), Finland (1), Japan (1), Kazakhstan (2), Latvia (249), Lithuania (5), Russia (19), Ukraine (1), USA (1)
Highest win: HK Kurbads - HS Riga 9-0
Season average attendance: 299
EIHL bosses have agreed the final part of the jigsaw to formally close off the 2019/20 season. Read more»
After a desperate tentative to finish the season, the Kontinental Hockey League closed the door. Also VHL stopped activities Read more»