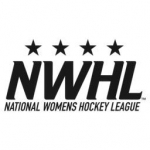 NWHL
League status: Active
English name: National Women's Hockey League
Head manager: Dani Rylan
Year of start: 2015
Did you find any incorrect or incomplete information? Please, let us know.
First ever Swedish goalscorer in NWHL
Last night Michelle Löwenhielm was the first ever Swedish player to score a goal in the National Women's Hockey League. She scored 1-1 for Connecticut Whale against Boston Pride.
(31 Dec 2018)
Noora Räty won't play in NWHL
Finnish star goalie Noora Räty won't play in the new professional women's league NWHL. "Plan is to keep playing with men this season and look how NWHL develops", she says on her Twitter.
(15 Aug 2015)
Past league results:
League standings:
Historic statistic:
Individuals records:
Due the impossibility of crossing the border with Russia, SaryArka, Nomad and Torpedo will play only in the domestic league Read more»
The NHL is recognized around the world as the biggest ice hockey league. It is the ultimate aim for any player, where they can pit their skills against the best, attempt to attain the most reputed ice hockey accolades, and earn ... Read more»