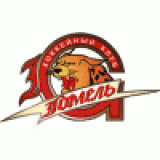 HK Gomel
Name in original language: Хоккейный клуб Гомель
Year of foundation: 2000
Colours: white,red,black
Club status: active
Address: HK Gomel
ul Mazurova 110
246006 Gomel
Belarus
Phone: +375 232 78 49 79
Fax: +375 232 78 49 79
Email: hockeyclub_gomel@tut.by
WWW: HC Gomel
Did you find any incorrect or incomplete information? Please, let us know.
Season 2017-2018
Current roster
season 2017-2018
* no longer in the club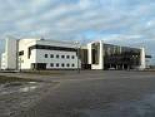 Adress: ul Mazurova 110
246006 Gomel
Phone: +375 232 725197
Email: ice_gomel@mail.ru
Capacity: 2760
Opened in: 2000
Belarusian Extraliga: 2003
Belarusian Cup: 2003, 2007
League winners:
from 1999 to present: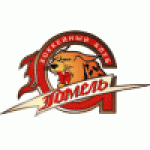 Neman and Gomel are the finalists of Belarus Cup
Despite two defeats in 2nd leg of semifinals, Cup holder Neman Grodno and HK Gomel are the finalists of 2017 Belarus Cup, named after Ruslan Salei.
In a replay of last season Cup and league finals, Neman knocked out rival Yunost Minsk, winning 6-4 in Minsk and loosing 1-2 at home.
An opening goal by Edijs Brahmanis was enough for Gomel to secure the pass for the final, despite the 3-1 defeat against Dinamo Maladzyechna, thanks to the 3-0 victory in the first leg.
The date of final is TBD
HK Gomel won the national Cup 4 times, the lasty in 2013; Neman has two titles, in 2015 and 2017
(27 Sep 2017)
Belarus Cup semifinals set
After the last game, won by Dinamo Maladzyechna against Yunost Minsk, the semifinals of Belarus Cup are known with the first two teams from each of two groups qualified: HC Dinamo Maladzyechna, winner of Group A, will play with Gomel, while Neman Grodno will face Yunost Minsk. The dates of two legs of semifinals are to be determined
(27 Aug 2017)
Calendar of Belarus Cup unvelied
Belarus Federation publishes today the calendar for Belarus Cup, named after Ruslan Salei, in memory of the defender tragically passed away in Yaroslavl plane crash. As in last editions, the 11 Extraliga teams plus Belarus U20 national team are divided in two groups playing a single round robin. The two winners will advance to finals. Two finalists from last edition, champion Yunost Minsk and Dinamo Maladzyechna are in thew same group, so won't meet in the final act.
As usual Eurohockey will follow Belarus Cup with game-by-game stats
(12 Jul 2016)
Gomel and Yunost set a record
It needs 6 overtimes for a total of 165 minutes to determine the winner of Semifinals game #1 in Belarus Extraliga playoffs between Gomel and Yunost Minsk, a new record for the country and one of longest hockey game in a professional league. With score of 1-1 after regular time, Vitaly Kiryushchenkov rocks the boat at 165:11 to give Yunost 1-0 advantage in the series. Yunost goalie Aleksandr Borodulya recorded a 108-shots stopped
(07 Mar 2015)
Gomel announces new coach
Former Dinamo Minsk Alexander Andrievski is the new coach of Gomel, replacing Valeri Voronin resigned at the beginning of October
(23 Oct 2014)
Gomel coach resigns
HK Gomel coach Valeri Voronin resigned today citing family reasons. Former assistant Aleksandr Polischuk will replace him, with Aleksandr Shumidub as assitant. After 10 games, Gomel is 7th in Belarus Extraliga
(03 Oct 2014)
Two milestones reached in Belarus League
The last round of Belarus Extraliga saw reach two milestones: scoring the fifth goal in Gomel 7-1 victory against Vitebsk, Artem Bozhko noted the 2.400th goal for the club in the Extraliga, making Gomel the third most prolific club, after Neman (2629) and Yunost (2571). In the game of Metallurg Zhlobin against Khimik SKA, Egor Egorov scored the 1.400 goal of the club, not enough to avoid his club defeat
(12 Dec 2013)
Gomel announces new coach
Belarusian Valeri Voronin will be the new coach at Gomel after the departure of Andrei Skabelka. Voronin was on Metalurgs Liepaja bench in last three seasons
(28 Apr 2013)
Awards in Belarus
Belarus Federation announces the winners of awards after the last season:
Best Goalkeeper - Dmitri Milchakov (Metalurg Zhlobin)
Best Defender - Andrei Antonov (Neman Grodno)
Best Forward - Andrei Makrov (Neman Grodno)
Best Defensive Forward - Artem Senkevich (Gomel)
Best Young Player - Evgeny Lisovets (Neman Grodno)
(24 Apr 2013)
New coach at Gomel
After the resignation of coach Andrei Skabelka, HK Gomel announces the new coach for the next season: the former player Oleg Romanov, this season acting as assistant coach
(25 Mar 2013)
Historic rosters:
Historic statistics:
Past results:
League standings:
Fast facts
season 2017-2018
Winning 2-1 against host Rungsted, Yunost keeps the perfect record proposing as favourite for the Superfinals Read more»
The final continental cup group game took place in Rungsted between Sheffield Steelers of Great Britain and Kurbads Riga of Latvia. Read more»