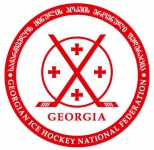 Georgian Championship
League status: Active
Administered by: Georgian Ice Hockey Federation
Year of start: 2007
WWW: http://www.hockey.ge
Did you find any incorrect or incomplete information? Please, let us know.
Fiery Crusaders Tbilisi continues on top of Georgian League after spring stage
Fiery Crusaders Tbilisi stay at the top of Georgian League after the end of spring stage, played in the city of Batumi, where is located one of two regular size rink of the country. Last December the icerink roof collapsed due to the abundant snowfall endangering the activities, but local government repair it in some weeks.
Before the last stage, helding in May, Fiery Crusaders is one point ahead of Mimino Bakuriani and Grey Wolves Tbilisi, while champion Ice Knights is last, 10 points behind Fiery Crusaders
(15 Mar 2014)
Fiery Crusaders Tbilisi won Georgian League winter stage
Fiery Crusaders Tbilisi won the Georgian Championship Winter Stage played in the town of Bakuriani. Tbilisi team finished with same points of Grey Wolves Tbilisi and home team Mimino, but is ahead due a better goal difference. Champion Ice Knights finished last with just one victory. Next round will be played in March in Batumi
(18 Jan 2014)
Georgian Federation re-elected the Board
During the congress members of Georgian Ice Hockey Federation have re-elected the Board and its 5 members: Nugzar Paikidze, Zakaria Khechuashvili, Alexander Vashakidze, Ilia Davidov, Mamuka Shergilashvili. According to the by-law the Board was eligible and therefore voted to elect President (Mr. Nugzar Paikidze), Vice-President (Zakaria Khechuashvili) and General Secretary (Mr. Alexander Vashakidze) of the Federation.
(27 Oct 2013)
Past league results:
League standings:
Historic statistic:
Individuals records:
Home loss for the 2021 champion on the opening day of the Swedish league. Read more»
The SC Bern defender Beat Gerber played his 1168th NL game on Friday. Read more»