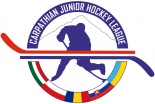 Carpathian Junior Hockey League - CJHL
League status: Active
Youth league: yes, U16
Administered by: Carpathian Junior Hockey League
Head manager: Jaroslav Kločanka
Year of start: 2016
WWW: http://cjhl.eu
Did you find any incorrect or incomplete information? Please, let us know.
CARPATHIAN JUNIOR HOCKEY LEAGUE will be organized by means of tournaments. During the season 4 tournaments will be realised: in Trebisov, Sanok, Novojavorivsk and Debrecen. At these tournaments/rounds all League participants will play each with each. 60 games will be played in total. Each team will play in League 20 games during the season 2016/2017, playing 4 duels with each competitor.
Civic association CARPATHIAN JUNIOR HOCKEY LEAGUE was founded with the target to create the conditions for ice hockey development in the countries of Carpathian euroregion. It will focus its activities especially on youth and junior hockey support in this region. The association wants to be helpful in deepening the cooperation among the hockey clubs in this region.
Past league results:
League standings:
Historic statistic:
Individuals records:
Gary Graham parted ways with EIHL side Nottingham Panthers this morning. Read more»
With a 5-2 win for Cardiff and 4-1 win for Angers they will take their place in the Superfinal. Read more»