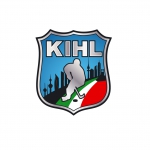 KIHL - Kuwait Ice Hockey League
League status: Active
Administered by: Kuwait Ice Hockey Association
Head manager: Fahad Hamad Al Ajmi
WWW: www.ihfkw.com
Did you find any incorrect or incomplete information? Please, let us know.
Kuwait Stars confirm title
The reigning champion Kuwait Stars confirm the title of Kuwait Hockey League defeating traditional rival Kuwait Falcons. It's the fourth title in the last five years for the Stars.
Serbian Bojan Zidarevic, player/coach of champion Stars, for the fifth consecutive season was the top scorer with 61 points (20+31) in 20 games
Kuwait Blue Waves won the title of Kuwait Women Ice Hockey League
League Awards:
MVP player of the league: Bojan Zidarevic (Stars)
Best player: Ahmad Al Ajmi (Stars)
Best forward: Kamil Vavra (Falcons)
Best defender: Jasem Al Awadhi (Stars)
Best goaltender: Ahmad Al Saegh (Stars)
(01 Mar 2021)
Kuwait Warriors win first title
The Kuwait Warriors win for the first time the title of Kuwait Ice Hockey League, 9 points ahead of last season champion Kuwait Stars.
Serbian Bojan Zidarevic, from champions Warriors, was the top scorer with 17 points (11+6) in 22 games
Check all the stats from Kuwait League on eurohockey!
(17 Mar 2019)
Kuwait Stars won Kuwait League
Dominating the season with one defeat in 21 games, Kuwait Stars won Kuwait Ice Hockey League with Stars player-coach Serbian Bojan Zidarevic finished as top scorer with 50 points (27+23). Zidarevic is also assistant coach of Kuwait National team, lead by his brother Marko, recently champion of Asia Challenge Cup Division 1
(29 Apr 2017)
Kuwait Airways Club won Kuwait League
Kuwait Airways Club won the National Ice Hockey title after defeating Sable 10-5 during the final match which was held at the Ice Skating Rink of Kuwait City on January 04
The championship lasted for four weeks with the partecipation of four teams: Touristic Enterprises, Gulf Cables, KAC and Sable.
Now the Kuwait national team will have week a training camp in Sweden to prepare the Gulf championship to be held in Qatar at the end of January.
(12 Jan 2016)
Past league results:
League standings:
Historic statistic:
Individuals records:
Full analysis of the last 10 seasons of the Ukrainian ice hockey championships Read more»
Full analysis of the last 10 seasons of the Ukrainian ice hockey championships Read more»