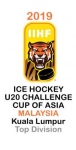 U20 Challenge Cup of Asia
League status: Active
Youth league: yes, U20
Administered by: IIHF
Year of start: 2012
WWW: http://www.iihf.com
Did you find any incorrect or incomplete information? Please, let us know.
U20 Challenge Cup of Asia
MHL Red Stars (represented by the new MHL team Sakhalin Sharks) won the U20 Challenge Cup of Asia in Yuzhno-Sakhalinsk. They beat Japan 8-3, South Korea 12-0 and Kazakhstan 3-1.
(08 Aug 2014)
Russia opens U20 Asian Challenge with a victory
Russia U20 - actually a team formed almost by players from MHL team Amur Tigers Khabarovsk - won the first game of U20 Challenge Cup of Asia, helding in Khabarovsk. Besides Russia and Korea, also Japan partecipate in the tournament

Red Stars MHL - Korea 4-0 (1-0,0-0,3-0)
Goals: Kirill Voronoy, Sergei Smurov, Igor Ishayev, Vitaly Teslenko.
(07 Jun 2013)
U20 Challenge Cup of Asia starts in Seoul
Today the U20 Challenge Cup of Asia started in Seoul, Korea.
China beat Taiwan 5-2 while Russia (an MHL All-Star team) beat the home team Korea 6-0.
Tht fifth nation, Japan, enters the tournament tomorrow.
(27 May 2012)
MHL AllStar will have two coaches in Seoul
Russian Federation announces Yuri Strakhov (Khimik Voskresensk) and Oleg Bratash (MHK Spartak) will coach MHL Stars from May 27 to June 1, 2012 in Seoul at the U20 Asian Challenge Cup in 2012.
This season Strakhov and Bratash already work together coaching Western Conference team in the Challenge Cup.
(27 Mar 2012)
MHL send AllStar team to IIHF U20 Challenge Cup of Asia
The "Red Stars", an Allstar team from Russian MHL, will partecipate in IIHF U20 Challenge Cup of Asia, in Seul, Korea, from May 27 to June 2. Host Korea, China, Japan and Taipei are the other partecipants.
The partecipation of Red Star is directly connected with the promotion of hockey in the Far East and a possible future establishment of a Pacific Division in KHL.
(17 Mar 2012)
Challenge Cup of Asia
The IIHF announced dates and venues for the four Challenge Cup of Asia tournaments to be played this spring.
2012 IIHF Challenge Cup of Asia in Dehradun, India, 17-25 March 2012

2012 IIHF U20 Challenge Cup of Asia in Seoul, Korea, 26-30 May 2012

2012 IIHF U18 Challenge Cup of Asia in Abu Dhabi/Al Ain, United Arab Emirates, 1-6 April 2012

2012 IIHF Women's Challenge Cup of Asia in Qiqihar, China, 15-20 February 2012
(03 Jan 2012)
Past league results:
League standings:
Historic statistic:
Individuals records:
Kaunas City celebrate the qualification to the second round of Continental Cup with a ten-goals victory over Skautafelag Rejkyavik Read more»
Estonian champion wins KHL Zagreb ensuring first place for the home team Read more»