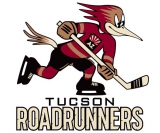 Tucson Roadrunners
Year of foundation: 2016
Colours: Brick red, desert sand, black, white
Club status: active
Phone: +1 866-415-4695
Fax: +1
Email: ahlhockey@arizonacoyotes.com
Did you find any incorrect or incomplete information? Please, let us know.
Season 2023-2024
This club in 2023-2024: AHL
Current roster
season 2023-2024
* no longer in the club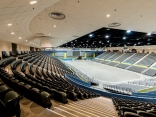 Adress: Tucson Arena
260 S Church Ave
Tucson, AZ 85701
Phone: +1 (520) 837-4757
Email: kate.calhoun@tucsonaz.gov
Capacity: 9275
Opened in: 1971
On April 19, 2016, the Arizona Coyotes announced that they had reached an agreement to purchase their AHL affiliate, the Springfield Falcons, and would relocate the team to Tucson for the 2016-17 season.Said purchase and relocation was contingent on three approvals; the first from Rio Nuevo (Tucson's downtown revitalization authority) to invest $3.2 million in arena upgrades to bring the Convention Center to professional-quality standards was approved on April 26, the second from the AHL Board of Governors to conditionally approve the purchase and relocation of the Coyotes was approved on May 10,and the third from the Tucson City Council for a 10-year lease with the Convention Center was approved on May 17.
A name-the-team contest was held between May 17 until May 31. The hockey club's new name and logo were revealed on June 18 during the Tucson Convention Center's open house event.The chosen name, Roadrunners, pays homage to the Phoenix Roadrunners, a team name that was used for various Phoenix professional hockey teams from 1967 to 2009, and creates a play on words with its parent club the Coyotes
from 2016 to present: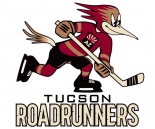 Tucson welcomes the Roadrunners
The Arizona Coyotes announced that the Club's American Hockey League (AHL) affiliate will be called the Tucson Roadrunners. The team's name and logo were revealed by Coyotes' President and CEO Anthony LeBlanc at an open house event at the Tucson Convention Center.

"We are very proud to name our AHL affiliate the Tucson Roadrunners," said LeBlanc. "The Tucson Roadrunners will build on the great traditions of hockey in Arizona dating back to 1967. Roadrunners was the overwhelming fan favorite during our 'Name the Team' contest, and we thank the thousands of fans who helped us select a great name that creates a strong connection to the City of Tucson, reflects our state pride, and extends the reach of the Coyotes brand."
(19 Jun 2016)
Historic rosters:
Historic statistics:
Past results:
League standings:
Fast facts
season 2023-2024
Tucson Roadrunners participates in season 2023-2024: AHL
Cardiff Devils won by one-goal-difference against home side Grenoble and advances to the Continental Cup Superfinals along with Nomad Astana Read more»
Kazakh champion closes the Continental Cup semifinals round with a perfect record, by beating HK Zemgale in the last game Read more»