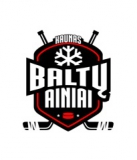 Kauno Baltų-Ainiai
Year of foundation: 1997
Colours: red,white,black
Club status: active
Address: Aušros g. 42C, Kauno m., Kauno m. sav., LT-44158
Phone: +370 (8 37) 335181
Fax: +370 (8 37) 335181
Email: baltuainiai@yahoo.com
WWW: Kauno Baltų-Ainiai
Did you find any incorrect or incomplete information? Please, let us know.
Season 2014-2015
Current roster
season 2014-2015
* no longer in the club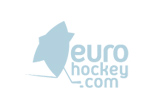 Adress: Aušros g. 42c, LT-44158,
Kaunas, Lietuva
Phone: +370 8-37 331087
Email: baltuainiai@yahoo.com
Capacity: 300
from 1997 to 2016: Kauno Baltų-Ainiai
from 2016 to 2018: Kauno Tigrai
from 2018 to present: Kauno Baltu Ainiai
from 2011 to present: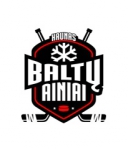 7 teams in next Lithuanian League
After the deadline for the applications to partecipate in next domestic championship, seven teams showed interest
Baltų ainių Kaunas
Hockey Punks Vilnius
SSM-2000 Elektrenai
Energija Elektrenai
Geležinio vilko Vilnius
Juodupės
Rokiškio
League lost three teams: Ober-Haus Vilnius, Lokių - Poseidono Elektrenai and current champion Delovaja Rus Kaliningrad.
Two new teams are SSM-2000 Elektrenai and Geležinio vilko Vilnius
Also Energija Elektrenai, after some years in Belarusian 2nd division is back in the domestic scenario. With the loss of Russian Delovaja Rus, the league will be formed only by Lithuanian teams
(20 Aug 2015)
Delovaja Rus confirms title in Lithuania
Russian team Delovaja Rus Kaliningrad confirms the title of Lithuanian league won last year by beating 5-2 in the final, played in Elektrenai, Kauno Baltų ainių from Kaunas. Delovaja dominated regular season, losing one game at overtime and two by forfait. Player/coach Pavel Fominych is the top scorer with 68 points (36+32) in 21 games.
Juodupės LRK from the small town of Juodupė - 2000 inhabitants - won the bronze medal, the first ever title for the club - beating 7-2 Elektrėnų Lokiai-Poseidonas.
Individual awards:
Best goalie: Lukas Jakšys (Kauno Baltų)
Best Defender: Artūras Katulis (Juodupes)
Best forward: Konstantin Isaev (Delovaja Rus)
MVP: Jurij Aleksejev (Delovaja Rus)
(22 Mar 2015)
Historic rosters:
Historic statistics:
Past results:
League standings:
Fast facts
season 2014-2015
Kaunas City celebrate the qualification to the second round of Continental Cup with a ten-goals victory over Skautafelag Rejkyavik Read more»
Estonian champion wins KHL Zagreb ensuring first place for the home team Read more»