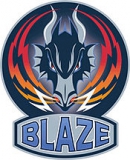 Coventry Blaze
Year of foundation: 1996
Colours: Light Blue, White, Dark Blue
Club status: active
Address: Coventry Blaze Ice Hockey Club
The Hockey Locker
18 Market Way
Coventry
CV1 1DL
Phone: +44 02476 223220
Fax: +44 02476 550699
Email: blazeoffice@btconnect.com
Did you find any incorrect or incomplete information? Please, let us know.
Season 2023-2024
Current roster
season 2023-2024
* no longer in the club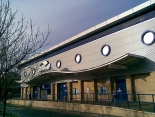 Adress: Planet Ice Arena
Croft Road
Coventry, CV1 3AZ.
Phone: +44 02476 630693
Capacity: 3000
Opened in: 1999
Originally from the neighbouring town of Solihull, the Blaze rose quickly through the various leagues of British Ice Hockey. In 2000-01, in order to attract a new and larger fanbase, the Blaze made the decision to move to the 3,650 capacity Coventry Skydome.
They went on to become one of the more successful British National League (BNL) teams. In 2002-03, they won the league and playoff double, completing the playoffs unbeaten.
In the summer of 2003, Coventry joined with two other BNL sides, three former Superleague sides and two new sides in a brand new Elite Ice Hockey League (EIHL).
Having finished 3rd in the inaugural EIHL season, Blaze claimed their first Elite League title on 5 March 2005 following a 5-1 victory over the London Racers. They also won the 2005 Challenge Cup following an 11-5 aggregate victory over Cardiff Devils. On 10 April 2005 the Blaze completed a Grand Slam of all three EIHL trophies with a 2-1 overtime victory over the Nottingham Panthers in the playoff final.
After a fruitless 2005-06 campaign, Blaze regained the Elite League title and Challenge Cup in the 2006-07 season. The team stumbled at the Semi-Final stage of the Playoffs, bowing out to eventual runners up, the Cardiff Devils.
The 2007-08 season proved similarly successful with Blaze clinching their 3rd Elite League title on 9 March 2008, after beating Belfast Giants 4-2 at the Skydome. Curtis Huppe scored the Championship winning goal against his former side.
On 18 March 2008, Blaze won the British Knockout Cup, having lost the previous two finals to Sheffield Steelers and Cardiff Devils. Blaze recovered from a two goal deficit against Basingstoke Bison in the final period of the 2nd Leg to clinch the tie 8-6 on aggregate. Blaze finished the season as runners up in the play off competition. Having disposed of Edinburgh Capitals in the Quarter Finals and Newcastle Vipers in the Semi's, Blaze lost 2-0 in the final to the Sheffield Steelers.
The 2008-09 season was one of fluctuating fortunes for Blaze. The team came within a goal of qualifying for the Continental Cup Super Final in November 2008, but were eliminated from both the British Knockout Cup and the Challenge Cup by the Belfast Giants in early 2009.
Sheffield Steelers clinched the Elite League title on Sunday 8 March after beating Newcastle Vipers 4-1. Blaze were defeated by Hull Stingrays the same evening, thus conceding their title. Blaze eventually finished as League runners up.
The season ended on a low note for Blaze, when they were humbled 6-2 by Nottingham Panthers in the Playoff Semi-Final in Nottingham.
Blaze rebuilt for the 2009-10 season, acquiring Peter Hirsch, Brian Lee, Jason Robinson and Greg Owen. Also joining the club were Greg Chambers from Basingstoke Bison, Luke Fulghum from Manchester Phoenix, and Derek Campbell from Newcastle Vipers.
Blaze won their 4th EIHL crown with a thrilling 4-3 overtime win in Edinburgh on 20 March 2010. Trailing 3-2 with less than 30 seconds remaining, captain Adam Calder tied the game with a powerplay strike. Calder then netted in overtime to complete a hattrick and ensure that the Championship returned to the Skydome.
Injury hit Blaze were unable to complete a League and Playoff double, falling 6-3 to Cardiff Devils in the Semi-Finals in Nottingham. Belfast Giants defeated the Devils in the final.
Notable players:
from 1996 to 2000: Solihull Blaze
from 2000 to present: Coventry Blaze
English Division One North Champions 1997-98 (as Solihull)
English National League Champions 1997-98 (as Solihull)
English National League Play Off Champions 1997-98 (as Solihull)
English Premier League Champions 1998-99 (as Solihull)
English Premier League Play Off Champions 1998-99 (as Solihull)
League Championships 2004-05, 2006-07, 2007-08, 2009-10
Championships 2004-05
Challenge Cups 2004-05, 2006-07
Knockout Cups 2007-08
Retired Numbers
12 Steve Chartrand
55 Stephen Cooper
League winners:
from 1996 to 2011: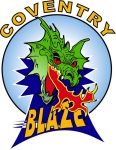 from 2011 to present: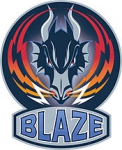 Coventry Blaze, EIHL, have confirmed the signing of Great Britain forward Ben Davies.
The 25-year-old, who most recently played for the Norfolk Admirals in the East Coast Hockey League, has previously iced for Cardiff Devils and Braehead Clan in the Elite League. Before going to the US he had a short stint with Swindon Wildcats of the EPL in Britain.
Davies has appeared in 442 Elite League and Challenge Cup games to date, registering 81 goals and 202 points during that span, whilst also representing Team GB at under 18, under 20 and senior level.
(07 Nov 2016)
Shirt retirement
Adam Calder, native of Manitoba in Canada, last played for UK Elite League Championship winning Coventry Blaze in 2010 and now they have decided to retire his no 25 shirt.
During his six seasons (2004to 2010) he played 384 games for them and holds the record still for the most points during an Elite league season - 125 - during 2007-08 season.
He was a grand slam winner (Elite League, Play Offs, Challenge Cup) in 2004-05 with a deceptively lazy style he was a true winner for Coventry.
(01 Dec 2015)
CSKA Sofia won't travel to Tychy
Due to financial problems CSKA Sofia, winner of Round 1 of Continental Cup, announced the team won't travel to Tychy, Poland, next weekend to partecipate in Second Round of competition. IIHF will fine the club for the withdrawal and invited the clubs finished behind CSKA to partecipate. Also runner-up Zeytinburnu Istanbul declined, but Partizan Beograd, finished third with just one game won, accepted the invite and will face GKS Tychy,Coventry Blaze and Dunarea Galati for a spot in semifinals
(20 Oct 2015)
Coventry wins EIHL playoffs
Coventry Blaze beat Sheffield Steelers 4-2 in the final to win the EIHL playoffs. Belfast Giants beat Hull Stingrays for the third place. Sheffield Steelers are EIHL champions as they won the regular season.
(05 Apr 2015)
Coventry Blaze fired coach Söderström
Coventry Blaze announced Mathias Söderström has been replaced as head coach by Sheffield Steelers assistant coach Marc LeFebvre. Sodestrom was appointed head coach during the summer after spending a couple of season as assistant.
Blaze chairman Andy Buxton said: "Marc is coming in as head coach until the end of the season. We wanted someone who knows the Elite League, knows the way the club works, knows the opposition teams and knows our players - someone who can hit the ground running. It's not easy to make a coaching change mid-season but Marc is a very bright young coach who has already shown he knows how to run a professional team and knows how to win. He now has a chance to show us what he can do."
(11 Feb 2014)
Brad Leeb receives 3-games suspension for punch
Coventry Blaze forward Brad Leeb has received a three-match ban for his sucker punch during his side's challenge match at Sheffield Steelers on Saturday 1st September 2012.
Leeb will miss three matches, one of which has already been served, against Sheffield Steelers, Cardiff Devils
and Dundee Stars
(04 Sep 2012)
Coventry Blaze needs financial help from fans
Four time Elite League Champions Coventry Blaze is in financial troble and asks the fans for help. Read more here.
(05 Dec 2011)
Historic rosters:
Historic statistics:
Past results:
League standings:
Fast facts
season 2023-2024
Cardiff Devils won by one-goal-difference against home side Grenoble and advances to the Continental Cup Superfinals along with Nomad Astana Read more»
Kazakh champion closes the Continental Cup semifinals round with a perfect record, by beating HK Zemgale in the last game Read more»