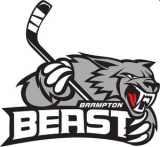 Brampton Beast
Year of foundation: 2013
Colours: Silver, Black, Red, White
Club status: active
Phone: +1 (905) 564-1684
WWW: Brampton Beast
Did you find any incorrect or incomplete information? Please, let us know.
Season 2013-2014
This club in 2013-2014: CHL
Current roster
season 2013-2014
* no longer in the club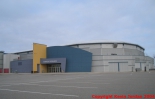 Adress: The Powerade Centre
7575 Kennedy Road South
Brampton, Ontario
L6W 4T2
Phone: +1 (905) 459-9340
Capacity: 4800
Opened in: 1998
The Beast are the first Central Hockey League team ever to be based in Canada. It will also be the third major hockey team to have called Brampton home, following the Brampton 7Ups which played in the Metro Junior A League from 1961 until 1963 and the Brampton Battalion which played in the Ontario Hockey League from 1998 until 2013, at which point the team moved to North Bay, Ontario to play as the North Bay Battalion. It is one of only 5 professional hockey teams in Ontario (Senators, Maple Leafs, Marlies and Bulldogs being the others).
from 2013 to 2019: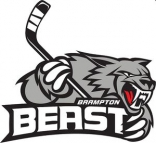 from 2019 to present: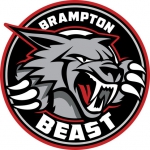 Historic rosters:
Historic statistics:
Past results:
League standings:
Fast facts
season 2013-2014
Brampton Beast participates in season 2013-2014: CHL
A new Extraliga and Vysshaya League are born aiming to increase competitiveness Read more»
The Champions Hockey League Board cancelled the Wild Card for Belarusian champion Read more»