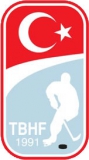 Turkey
Year of foundation: 1991
Colours: red, white
Club status: active
Address: Turkish Ice Hockey Federation
G.S. II Müdürlügü Buz Paten Sarayi Içi Akdeniz Cad: No. 57
Bahçelievler / Cankaya
06500 Ankara
Turkey
Phone: +90 312 211 1413
Fax: +90 312 221 12 62
Email: info@tbhf.org.tr
Did you find any incorrect or incomplete information? Please, let us know.
Season 2022-2023
Current roster
season 2022-2023
* no longer in the club
from 1990 to present: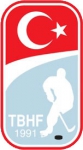 Kyrgyzstan won Eurasian Championship
With a perfect record, Kyrgyzstan won the first edition of Eurasian Championship, a U20 tournament played in Istanbul and organized by Turkish Federation to replace the World Championship cancelled by IIHF due to Covid-19
All the gamesheets and stats avaiable here

(10 Jan 2022)
Turkish U18 team promoted
The Turkish under-18 team beat Hong Kong 9-1 and the home team New Zealand 5-4 to win promotion from Division III Group B, the lowest level of IIHF's U18 World Championships.
(20 Mar 2015)
South Africa promoted
South Africa earns promotion from the lowest U18 World Championship level, Division 3B, after beating Hong Kong and Turkey in Izmit.
(16 Feb 2014)
Historic rosters:
Historic statistics:
Past results:
League standings:
Fast facts
season 2022-2023
Kaunas City celebrate the qualification to the second round of Continental Cup with a ten-goals victory over Skautafelag Rejkyavik Read more»
Estonian champion wins KHL Zagreb ensuring first place for the home team Read more»