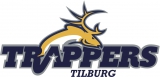 Did you find any incorrect or incomplete information? Please, let us know.
Season 2023-2024
Current roster
season 2023-2024
* no longer in the club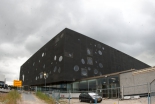 Adress: IJssportcentrum Tilburg
Stappegoorweg 3a
5022 DA Tilburg
Email: info@trappers.nl
Capacity: 2500
Opened in: 1998
Retired numbers:
2 Huub van Dun
9 Jiri Petrnousek
10 Joe Simons
15 Klaas van den Broek
17 Frank Jacobs
30 Jerry Göbel
31 Martin Trommelen
from 1946 to 1964: T.U.S.C. Tilburg
from 1964 to 1988: Tilburg Trappers
from 1988 to 1992: Agpo Trappers Tilburg
from 1992 to 1994: Lepelaers Trappers Tilburg
from 1994 to 1995: Couwenberg Trappers Tilburg
from 1995 to 2000: CVT Trappers Tilburg
from 2000 to 2005: Diamant Trappers Tilburg
from 2005 to 2017: Destil Trappers Tilburg
from 2017 to present: Tilburg Trappers
Cup International (1969, 1970, 1971, 1973)
Cup Brabant (1969)
Cup Swegerijnen (1974)
Cup Lage Landen (1966, 1968)
Cup Luxembourg (1969)
Cup National (1970)
Cup Chamonix
Cup Villard de Lan
League winners:
from 1900 to 2011:
from 2011 to present: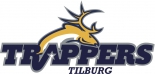 CSKA Sofia signed Russian veterans for Continental Cup
CSKA Sofia certainly won't travel to Bremerhaven for Continental Cup second round as underdog: Bulgarian team has strengthened the roster with the addition of five Russian players among which stand out former stars as Oleg Kvasha and Vladimir Antipov, both retired after last season. Other veterans contracted are: defender Mikhail Lyubushin and forwards Dmitry Vlasenkov and Dmitry Bykov.
Cska will play first game friday night against host Fischtown Pinguins Bremerhaven
(16 Oct 2014)
DESTIL Trappers Tilburg Dutch Cup Champions
The Dutch Cup will be staying in Tilburg for another season as the club defeated UNIS Flyers Heerenveen 2:1 in Eindhoven infront of 2000 fans. A pair of powerplay goals from Bob Teunissen and Diederick Hagemeijer mid-way through the first period was enough for the Trappers, Tony Demelinne made things interesting mid-way through the third but it wasnt enough. Tilburg has earned their 13th Dutch Cup.
(16 Jan 2014)
Barry Smith at MODO
Former Tilburg Trapper and Netherlands coach Barry Smith was announced as new MODO assistant coach along with Jan-Axel Alavaara. Smith signs one-year contract and will work with headcoach Anders Forsberg

(24 Apr 2013)
Barry Smith leaves Tilburg Trappers
Barry Smith leaves Tilburg Trappers. The American coach has decided to not accept an offer for contract extension
In his only season at Tilburg, Smith won the Cup, but lost the national championship in final. Tilburg is looking for a successor to Smith.
The American is still the head coach of the Dutch team.
(23 Mar 2013)
Lockout a marketing chance for small leagues?
In recent weeks many NHLers found their way to the leagues in Europe but most of them concentrated on the traditional hockey super powers like Russia, Sweden, Finland, Switzerland, Germany etc (1st and 2nd tier). After recent signings of Dustin Jeffrey (Tilburg Trappers, Netherlands) and Wojtek Wolski (KH Sanok, Poland) maybe more players use the lockout to make advertising for the fastest team sport on earth.
(06 Oct 2012)
Historic rosters:
Historic statistics:
Past results:
League standings:
Fast facts
season 2023-2024
A look back at a season that lived up to its promise. Read more»
The Alliance of European Hockey Clubs (E.H.C.) has announced the nominees for the 2023 Fenix Outdoor & Warrior European Hockey Awards. Read more»