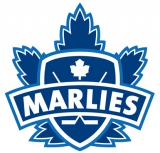 Toronto Marlies
Year of foundation: 2005
Colours: blue, white
Club status: active
Address: 100 Princes' Boulevard,
Toronto, Ontario M6K 3C3
Phone: +1 416 597 7825
Fax: +1 416 815 6050
Email: wyoung@torontomarlies.com
WWW: Toronto Marlies
Did you find any incorrect or incomplete information? Please, let us know.
Season 2021-2022
This club in 2021-2022: AHL
Current roster
season 2021-2022
* no longer in the club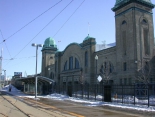 Adress: 100 Princes Boulevard
Toronto, ON
M6K 3C3
Phone: +1 416-263-3900
Capacity: 8140
Opened in: 1921
Founded in 2005 after a relocation of Toronto Maple Leafs' top AHL affiliate from St. John's where they played as St. John's Maple Leafs.
from 2005 to present: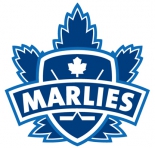 Kempe and Nylander to play WJC
Adrian Kempe and William Nylander, both drafted in the first round of the 2014 NHL Draft, are clear to represent Sweden at the 2016 World Junior Championship.
Both have had a great AHL season so far. Nylander leads the league in scoring with 10 goals and 14 assists in 19 games while Kempe has collected 13 points in 17 games.
(04 Dec 2015)
Historic rosters:
Historic statistics:
Past results:
League standings:
Fast facts
season 2021-2022
Toronto Marlies participates in season 2021-2022: AHL
IIHF President expressed a clear position on the situation in Ukrainian hockey during a meeting with the Federation Read more»
Ted Brithen scored three goals when Rögle beat another Swedish team, Frölunda, in the first of two games in the Champions Hockey League semi finals. Red Bull München and Tappare were supposed to play in Münich but that game was canceled ... Read more»