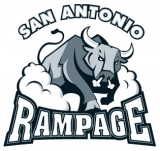 San Antonio Rampage
Year of foundation: 2002
Colours: black, silver, white
Club status: ceased (the Vegas Golden Knights in February 2020 who relocated the franchise to the Las Vegas Valley area at the conclusion of the 2019–20 AHL season to become the Henderson Silver Knights.)
Address: One AT&T Center
San Antonio, TX 78219
Phone: +1 210-444-5554
Fax: +1 210-444-5737
Did you find any incorrect or incomplete information? Please, let us know.
Season 2022-2023
* no longer in the club
Adress: 1 AT&T Center Parkway,
San Antonio, Texas 78219
Phone: +1 210-444-5140
Capacity: 13800
Opened in: 2002
Founded in 2002 in cooperation with Florida Panthers. Signed a multi-year affiliate contract with Phoenix Coyotes in 2005, but once again became Florida Panthers top affiliate in 2011.
from 2002 to present: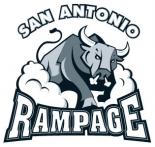 Rio Grande Valley announces affiliation
The Rio Grande Valley Killer Bees of the Central Hockey League (CHL) announces the first affiliation in team history.
For the 2011-12 season, the Killer Bees will be affiliated with the Florida Panthers of the National Hockey League (NHL) and San Antonio Rampage of the American Hockey League (AHL).
(31 Aug 2011)
Historic rosters:
Historic statistics:
Past results:
League standings:
After a 4-years hiatus, a Kazakh club could be back in Russian Second League Read more»
In late Spring, 2023, the International Ice Hockey Federation will host the 86th Men's Ice Hockey World Championships. The competition is easily global ice hockey's biggest event, with hundreds of thousands of fans traveling for each world championship finals event. ... Read more»