Carolina Hurricanes
Year of foundation: 1997
Colours: red,black,silver,white
Club status: active
Address: Carolina Hurricanes Hockey Club
RBC Center
1400 Edwards Mill Road
Raleigh, NC, USA 27607
Phone: +1 919 467-7825
Fax: +1 919 462-7030
Did you find any incorrect or incomplete information? Please, let us know.
Season 2022-2023
This club in 2022-2023: NHL
Current roster
season 2022-2023
* no longer in the club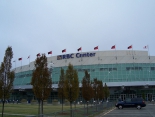 Adress: 1400 Edwards Mill Road,
Raleigh, North Carolina 27607
Capacity: 18680
Opened in: 1999
The club was originally formed as New England Whalers in 1972 and was known as Hartford Whalers during 1979-1997. In 1997 the club was moved to Carolina and got it's present name. Won Stanley Cup in 2006.
Notable players:
Stanley Cup Champions 2006
League winners:
from 2000 to present: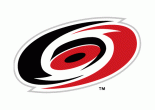 Elias Lindholm to WJC in Malmö
Carolna Hurricanes' forward Elias Lindholm has been allowed by the Hurricanes to join Team Sweden for the World Juniors in Malmö.
(16 Dec 2013)
Carolina lost Pitkanen for rest of the season
Carolina Hurricanes defenseman Joni Pitkanen will miss the rest of the season with a broken heel.
Pitkanen was hurt with 1:57 left in the second period of a 5-3 loss to Washington. He raced down the ice while trying to beat an icing call and went hard into the boards
(03 Apr 2013)
Hurricanes fire coach Paul Maurice
After having lost 11 of their past 15 games the Carolina Hurricanes have fired coach Paul Maurice. Current AHL's Milwaukee Admirals coach Kirk Muller will be the new head coach.
Maurice was on Hurricanes bench from 2008, when he replaced Peter Laviolette and previously coached Carolina franchise from 1995 to 2003 reaching Stanley Cup finals in 2001-02 season, when the Hurricanes lost to the Detroit Red Wings
(28 Nov 2011)
Historic rosters:
Historic statistics:
Past results:
League standings:
Fast facts
season 2022-2023
Carolina Hurricanes participates in season 2022-2023: NHL
After three-years-hiatus, the Asia League was back and Korean team add another title Read more»
In late Spring, 2023, the International Ice Hockey Federation will host the 86th Men's Ice Hockey World Championships. The competition is easily global ice hockey's biggest event, with hundreds of thousands of fans traveling for each world championship finals event. ... Read more»