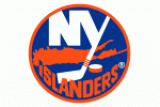 New York Islanders
Year of foundation: 1972
Colours: royal blue, orange, white
Club status: active
Address: Islanders Corporate Offices
Nassau Veterans Memorial Coliseum
1255 Hempstead Turnpike
Uniondale, NY 11553
Phone: +1 516 501 6700
Fax: +1 516 501 6762
Did you find any incorrect or incomplete information? Please, let us know.
Season 2023-2024
This club in 2023-2024: NHL
Current roster
season 2023-2024
* no longer in the club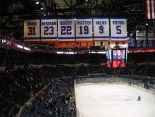 Adress: 1255 Hempstead Turnpike (State Route 24), Uniondale, New York 11553
Capacity: 16250
Opened in: 1972
Founded in 1972, have played in Nassau Veterans Memorial Coliseum ever since. Won four consecutive Stanley Cups between 1980 and 1983. However, they have not won a playoff series since 1993.
Notable players:
Four Stanley Cup victories in a row between 1980 and 1983.
League winners:
from 2010 to present: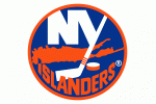 NY Islanders sign affiliation with Stockton Thunder
The New York Islanders and the Stockton Thunder of the ECHL and have reached a one year affiliation agreement for the 2013-14 season.
The Thunder previously had an NHL affiliation with the Edmonton Oilers (2006-13), San Jose Sharks (2010-12) and Phoenix Coyotes (2005-06).
(31 Jul 2013)
Islanders suspend Lubomir Visnovsky
New York Islanders announced that club has officially suspended defenseman Lubomir Visnovsky after he has not arrived for training camp. Visnovsky has tried to remain with his European club, Slovan Bratislava, despite a rule prohibiting that. The NHL and KHL have an agreement that any player with an NHL contract must return to his club once the lockout is lifted. The KHL is complying and won't let Visnovsky play in Russia now that the lockout has ended.
(18 Jan 2013)
KHL cancels Višňovský's contract with Slovan Bratislava
As a new NHL Collective Bargaining Agreement has been ratified by both the clubs and NHLPA, all the players with a valid NHL contract are obliged to join their teams in pre-season training camps. A Slovak defender Ľubomír Višňovský did not like the idea at all and stated he wish to finish the 2012/13 season in the KHL team of Slovan Bratislava due to personal reasons. But his NHL employer, the New York Islanders, do not want to accept that and called Višňovský to arm repeatedly. As the 36-year old player was not willing to travel across the Atlantic Ocean anyway, the Islanders asked the KHL Board to cancel Višňovský's contract with Slovan and they succeeded. KHL commented the decision the league wants to follow the NHL - KHL Memorandum about respecting of players' contracts, but will keep negotiating with the Islanders about possible compromise.
(15 Jan 2013)
Mark Streit and Nino Niederreiter will play the World Championship
The Swiss stars of New York Islanders, Mark Streit and Nino Niederreiter, have confirmed that they will play the World Championship. Niederreiter will join the Swiss team April 16 and Streit April 24.
Switzerland opens their WC campaign against Kazakhstan May 5 in Helsinki.
(11 Apr 2012)
Historic rosters:
Historic statistics:
Past results:
League standings:
Fast facts
season 2023-2024
New York Islanders participates in season 2023-2024: NHL
Kaunas City celebrate the qualification to the second round of Continental Cup with a ten-goals victory over Skautafelag Rejkyavik Read more»
Estonian champion wins KHL Zagreb ensuring first place for the home team Read more»