Chelmet Chelyabinsk
Name in original language: Хоккейный клуб Челмет Челябинск
Year of foundation: 1948
Colours: red, black, whitte
Club status: active
Address: Sverdlovsk prospect, 51
454000 Chelyabinsk

Phone: +7 (351) 265-81-74
Fax: +7 (351) 265-81-74
Email: hcchelmet@mail.ru
WWW: Chelmet Chelyabinsk
Did you find any incorrect or incomplete information? Please, let us know.
Season 2023-2024
This club in 2023-2024: VHL
Current roster
season 2023-2024
* no longer in the club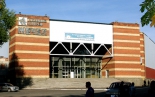 Adress: ul 1st Sputnik, 4
454 017, Chelyabinsk

Phone: +7 (351) 725-20-16
Capacity: 2800
Opened in: 2003
from 1948 to 1990: Metallurg Chelyabinsk
from 1990 to 2012: Mechel Chelyabinsk
from 2012 to present: Chelmet Chelyabinsk
from 1948 to 2012: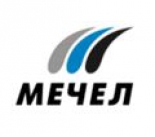 from 2012 to 2020: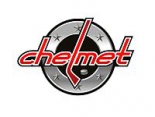 from 2020 to present:

Chelmet fire coach
Chelmet Chelyabinsk announced the club fire coach Alexander Rozhkov due the poor results in VHL, replacing him with current assistant coach Igor Znarok. Chelmet is currently 16th in the standings

(26 Dec 2016)
Valeri Karpov passed away
Former Russian player Valeri Karpov died at 44 for the consequences of a domestic incident (a bad fall down the stairs) suffered last July. After two months in coma, Karpov suffered three operations, but was never able to recover. In September was transported from Chelyabinsk to Berezovsky, to follow specific rehabilitation in a hospital.
Drafted by Anaheim, Karpov played 76 games in NHL and 523 in Soviet/Russian League with a title in 1999 with Metallurg Magnitogorsk. He won a World Championship in 1993 and a silver in 2002 with Russia. He was inducted into the Russian and Soviet Hockey Hall of Fame in 1993. Before the accident, Karpov signed as Chelmet Chelyabinsk assistant coach
(10 Oct 2014)
Chelmet and Neftyanik announce new coach
Former assistant coach Alexei Tertyshny is the new headcoach of Chelmet Chelyabinsk. He replaced Evgeny Galkin, moved on Sputnik Nizhny Tagil bench. Oleg Davydov and Valery Karpov will work as assistants.
Yuri Mordvintsev, last two seasons on CSK VVS Samara bench, is the new coach of Neftyanik Almetyevsk
(22 Jun 2014)
Sergei Paramonov died at 54
Former Traktor Chelyabinsk player and coach Sergei Paramonov died yesterday when his heart stopped during a friendly match in Troitsk (Chelyabinsk region) with the team Traktor Veterans
Paramonov felt sick in the locker room, ambulance arrives but could not help. He was 54 years old.
Paramonov coached Traktor in 2001. In 2002/03 season and from 2008 to 2011 he was the head coach of Mechel Chelyabinsk
(19 Oct 2012)
Mechel Chelyabinsk will be disbanded
According to "Soviet sport" VHL club Mechel Chelyabinsk will be disbanded.
Steel group "Mechel" managers have taken this decision during a recent company meeting.
This means that from next season the team will cease to exist. The Mechel group will now partially funded Izhstal Izhevsk team
The sports school, based at the Ice Palace "Mechel" will continue to operate as well the MHL-B team Steel Lions
(10 Apr 2012)
Historic rosters:
Historic statistics:
Past results:
League standings:
Fast facts
season 2023-2024
Chelmet Chelyabinsk participates in season 2023-2024: VHL
Cardiff Devils won by one-goal-difference against home side Grenoble and advances to the Continental Cup Superfinals along with Nomad Astana Read more»
Kazakh champion closes the Continental Cup semifinals round with a perfect record, by beating HK Zemgale in the last game Read more»