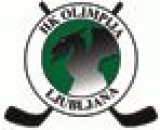 HK Olimpija Ljubljana
Nickname: young Dragons
Year of foundation: 2004
Colours: green, white
Club status: active
Address: Celovška cesta 25
1000 Ljubljana
Phone: +386 1 232 2317
Fax: + 386 1 232 2318
Email: info@hkolimpija.si
Did you find any incorrect or incomplete information? Please, let us know.
Season 2017-2018
Current roster
season 2017-2018
* no longer in the club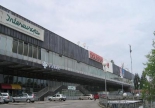 Adress: Športno rekreacijski center Tivoli
Celovška cesta 25
1000 Ljubljana
Phone: +386 08 387-60-86
Email: info@zavod-tivoli.si
Capacity: 7000
Opened in: 1965
Team was established as HS Olimpija in 2004 after HDD Olimpija decided to drop all of the junor teams. It has changed the name to HK Olimpija before the 2009/10 season.
Notable players:
from 2004 to 2007: HD HS Olmpija
from 2007 to 2010: HS Toja Olimpija
from 2010 to 2019: HK Olimpija Ljubljana
from 2019 to present: HK SZ Olimpija Ljubljana
from 2004 to 2018: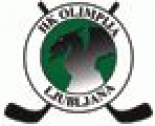 from 2018 to present: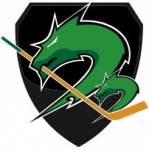 Hk Olimpija retains Slovenian Cup
By beating 4-2 Acroni Jesenice in the Eternal Derby, in front of 1500 spectators, HK SZ Olimpija Ljubljana retains Slovenian Cup. It's the fifth trophy for the club
(28 Sep 2022)
Olimpija Ljubljana won Alps Hockey League
HK SŽ Olimpija Ljubljana is once again champion of the Alps Hockey League. The Slovenians won the regular season and swept Italian champion Asiago Hockey in the finals with 3:0 victories. After the Dragons won the first two games at overtime, completed the series with 4-1 victory at home
Ljubljana is the first team to defend its title in the AHL
(25 Apr 2021)
Jesenice again in Slovenia
HDD Jesenice confirms the title of Slovenian League by beating eternal rival HK Olimpija Ljubljana in 4 games of final series, with the decisive 4-1 victory on Olimpija ice, at Tivoli Arena. Since the indipendence of Slovenia, only the two archrivals shared all the titles, with Olimpija leading with 13 victories and HDD Jesenice - the reincarnation of HK Jesenice folded in 2012 due to bankruptcy - with 12.
HK Olimpija Ljubljana forward Crt Snoj finished as Top Scorer with 32 points (10+22) in 14 games
(16 Apr 2018)
Jesenice and Olimpija reach final of Slovenian League
Once again the two best teams of the country, HDD Jesenice and HK Olimpija Ljubljana, will battle for the domestic championship, after winning the semifinals series 2-0. Jesenice easily won 4-2 and 5-1 against HK Celje, while Olimpija has a more difficult series against Triglav Kranj, defeated 2-1 and 5-4.
The dates for the finals are still to be determined. The two teams will fight for the title for the fourth consecutive time and the 21th out of 26 editions of Slovenian League. Only Slavija Ljubljana was able to reach the finals besides the two giants, but lost the 5 finals played.
Olimpija has 15 titles, Jesenice 11 (9 as HK Acroni, 2 as the new club HDD Jesenice)
(05 Feb 2018)
Slovenian Cup stats available
THe complete statistics for 2017 Slovenian Cup, played in September in Celje, are now available on eurohockey, don't miss the last episode of eternal rivalry between Jesenice and Olimpija
(15 Oct 2017)
Slovenian National League starts tomorrow
Slovenian Domestic League will start tomorrow with the first round of qualification group. Five teams (Triglav, Bled, Maribor, Slavija and Olimpija) will play a single round robin until March 9th. Then, the best two teams will play against Tilia Olimpija and current champion Acroni Jesenice playoff semifinals. Follow Slovenian League on eurohockey.com !
(24 Feb 2012)
Continental Cup 2nd Round, Day #2
In Dunaujvaros B Group Belgian White Caps Tourhout made a sensation beating 5-3 Dutch champion HYS The Hague with an amazing performance by American goalie Tyler O'Brien, 53 saves and it's almost qualyfing for an historic third round. Host Dunaujvarosi Acelbikak hammered 7-1 Spanish champion CH Jaca: a significant 80-10 shoots on goal says a lot about a one-sided game.
C Group in Miercurea Ciuc, Romania opened with an easy victory by Metalurgs Liepaja. Latvian side scored 11 goals against Olimpija Ljubljana with an hattrick by Juris Upitis, while Sport Club says goodbye to qualification after 1-5 suffered by Beybarys Atyrau, now with a chance to advance if Liepaja will lost in last game.
Follow all Continental Cup results and stats on Eurohockey.com here
(23 Oct 2011)
Continental Cup 2nd Round results
The second Round of Continental Cup started on Friday, with two groups in Miercurea Ciuc (ROM) and Dunaujvaros (HUN). In Romania, Liepaja Metalurgs opened tournament with a shoot-outs victory against Kazakh champion Beybarys Atyrau: 3-2 with decisive shoot-out by Juris Upitis. Host SC Csikszereda easily won its first match, 8-3 against HK Olimpija Ljubljana (farm of EBEL main team) with 2 goals scored by Ede Mihaly.
In Hungarian seed White Caps Turnhout, winner of preliminary group, didn't have problem with Spanish champion CH Jaca: 7-3 and 3 goals by veteran Marek Ziarny while Dunaujvarosi Acelbikak frustrated its fans loosing 3-1 with Dutch HYS The Hague
(22 Oct 2011)
Historic rosters:
Historic statistics:
Past results:
League standings:
Fast facts
season 2017-2018
Cardiff Devils won by one-goal-difference against home side Grenoble and advances to the Continental Cup Superfinals along with Nomad Astana Read more»
Kazakh champion closes the Continental Cup semifinals round with a perfect record, by beating HK Zemgale in the last game Read more»