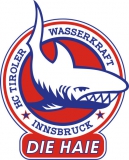 HC TWK Innsbruck
Short name: Innsbruck
Nickname: Die Haie
Year of foundation: 1994
Colours: red,black
Club status: active
Address: HC Tiroler Wasserkraft Innsbruck
Stadionstrasse 1 (Haus des Sports)
6020 Innsbruck
Phone: +43 (512) 251 521
Fax: +43 (512) 257 496
Email: office@hcinnsbruck.at
Did you find any incorrect or incomplete information? Please, let us know.
Season 2023-2024
Current roster
season 2023-2024
* no longer in the club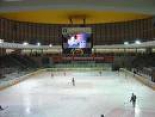 Adress: Olympiastrasse 10
A-6020 Innsbruck

Phone: +43-512-33 8 38-0
Email: office@olympiaworld.at
Capacity: 3200
Opened in: 1963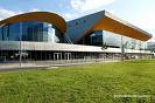 Retired Numbers:
# 17 Rem Murray
# 14 Greg Holst
# 31 Claus Dalpiaz.
Founded in 1994 to replace defunct EV Innsbruck
Notable players:
from 1994 to 1999: HC Innsbruck
from 1999 to present: HC TWK Innsbruck
from 1994 to present: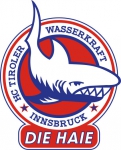 Coaching news in EBEL
HC Innsbruck, currently ranked 11th in EBEL, fired head coach Christer Olsson. Aisstant coach Pierre Beaulieu will act as interim head coach for the Sharks.
In the meantime, record champion Klagenfurter AC decided to extend the contract with interim coach Alexander Mellitzer. The 35-year-old Austrian will stay bench boss also for the remainder of the current season.
(25 Dec 2015)
Innsbruck retires Rem Murray's number
HC Innsbruck announces team decides to retire the jersey #17 to pay homage to Rem Murray, retired this summer. Canadian forward played three season with Innsbruck. Murray is the third player to have his number retired by the club, after # 14 Greg Holst and #31 Claus Dalpiaz.
(27 Aug 2012)
HK Acroni Jesenice out of EBEL
EBEL league executives decided not to allow HK Acroni Jesenice to participate in 2012/13 EBEL season. The first ever non-Austrian team to join EBEL experienced financial problems through last few seasons. Legendary Slovenian team actually finished last in league for the last two consecutive seasons. EBEL offered Jesenice to reconstruct their financial and player situation and apply for return to league after season or two.
Two Austrian teams are joining the league – HC TWK Innsbruck is re-entering the league after three seasons. Dornbirner Eishockey Club will compete in the league for the first time.
(23 May 2012)
Historic rosters:
Historic statistics:
Past results:
League standings:
Fast facts
season 2023-2024
A look back at a season that lived up to its promise. Read more»
The upcoming NHL draft in June 2023 is fast approaching. Find out here which European Ice Hockey players will likely be in the draft. Read more»