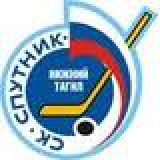 Sputnik Nizhny Tagil
Name in original language: Хокке́йный клуб Спу́тник Ни́жний Таги́л
Year of foundation: 1934
Colours: blue, red, white
Club status: active
Address: ul. Illich 2 A
622 051 Nizhny Tagil

Phone: +7 (3435) 33-44-08
Fax: +7 (3435) 33-44-08
Email: sksputnik@yandex.ru, sksputnik@mail.ru
WWW: Sputnik Nizhny Tagil
Did you find any incorrect or incomplete information? Please, let us know.
Season 2011-2012
This club in 2011-2012: VHL
Current roster
season 2011-2012
* no longer in the club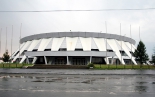 Adress: pr. Leningrad, 24
622 018, Nizhny Tagil

Phone: +7 (3435) 33-83-52
Capacity: 4160
from 1934 to 1959: Trud Nizhny Tagil
from 1959 to 1960: Avangard Nizhny Tagil
from 1960 to 1961: Uralvagonmach Nizhny Tagil
from 1961 to 1962: Avangard Nizhny Tagil
from 1962 to 1963: Uralvagonmach Nizhny Tagil
from 1963 to present: Sputnik Nizhny Tagil
from 1963 to 2012: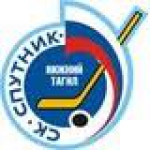 from 2012 to present: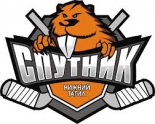 Sputnik replaces coach
After 12 rounds without a victory and no points in the standing, coach Alexander Rozhkov left the bench of Sputnik Nizhny Tagil. Club replaces him with current assistant coach Sergei Lopushansky
(14 Oct 2017)
Sputnik Nizhny Tagil forward passed away
Sputnik Nizhny Tagil forward Sergei Simonov, 24, suddenly passed away. According to preliminary reports, the player was hospitalized after a training session, held the day before. He complained of pain in the region of the spleen. The exact cause of death has not been established but an investigation was opened. Before to arrive at Sputnik, Simonov, a product of Novokuznetsk school, played for Lada and Lipetsk in 2013-2014, Sary-Arka Karaganda 2014-2015 and Kristal Saratov in the first part of current season
(07 Jan 2016)
Sputnik Nizhny Tagil fires coaches
With 8 victories after 19 rounds, Sputnik Nizhny Tagil announces the club fires coach Vladimir Golubovich and the assistant Vadim Shaidullin. Club manager Marat Valiullin will lead the team as interim coach
(11 Nov 2015)
Sary Arka, Ariada and Sputnik change coach
Movements on the benches of the VHL:
Russian coach Alexei Fetisov resigned from his post at Sary Arka at his own request. Assistant Leonids Tambijevs was named new head coach. Sary Arka is the reigning champion of VHL and currently 7th in the standing.
Ivan Tsarev replaced Igor Zilinsky at Ariada Volzhsk after nine consecutive defeats.
Former Neftekhimik Nizhnekamsk coach Vladimir Golubovich is the new coach of Sputnik Nizhny Tagil replacing Evgeny Galkin
(29 Oct 2014)
Sputnik Nizhny Tagil changed coach
With his team penultimate, Alexei Fetisov resigned as head coach of Sputnik Nizhny Tagil. Club named current assistant coach Alexander Chelushkin as replacement
(29 Oct 2013)
Sputnik Nizhny Tagil becomes Avtomobilist farm club
Sputnik Nizhny Tagil became farm-club of Avtomobilist Yekaterinburg. The clubs signed a cooperation agreement.
- I think the agreement will benefit both clubs and help them to improve their results. Sputnik is a great choice for us: is one of the leading clubs in the VHL, and Nizhny Tagil is quite close to Yekaterinburg - said Avtomobilist GM Leonid Vaysfeld.
(24 May 2013)
Karlovy Vary enters in MHL, six new clubs in MHL-B
Czech team Karlovy Vary will have a junior squad in next MHL. Team's apply was approved unanimously during the general meeting of clubs participants at 2012/13 MHL.
"Karlovy Vary has an excellent infrastructure in our region. We have 9 ice hockey clubs and our own Academy. The MHL is currently the best project in the junior hockey world and is growing rapidly" - said the team director Aleksei Naumov.
At the same meeting 6 new applies were approved to enter in MHL-B: HC Dimitrov, HC Zauralie Kurgan, HC Ryazan, HC Buran Voronezh, HC Belgorod and HC Sputnik Nizhny Tagil
(27 Apr 2012)
Two coaches fired in VHL
The bottom teams in VHL Division East changed coaches.
Izhstal Izhevsk fired Kazakh Nikolai Myshagin and assistant Andrei Zubkov recalling former coach Albert Loginov and promoting Sergei Dushkin from farm club as coach assistant. Izhstal is last in East Division with 19 points in 22 games.
After one month Sputnik Nizhny Tagil fired coach Evgeny Mukhin and replaced him with former assistant Aleksei Fetisov who started the season as head coach and become assistant when Mukhin arrived at club in october

(15 Nov 2011)
Evgeny Mukhin new coach at Nizhny Tagil
Evgeny Mukhin is the new head coach of VHL Sputnik Nizhny Tagil. He will be assisted by current head-coach Aleksei Fetisov. Last season Mukhin coached Automobilist Ekaterinburg in KHL
(06 Oct 2011)
Historic rosters:
Historic statistics:
Past results:
League standings:
Fast facts
season 2011-2012
Sputnik Nizhny Tagil participates in season 2011-2012: VHL
IIHF President expressed a clear position on the situation in Ukrainian hockey during a meeting with the Federation Read more»
Ted Brithen scored three goals when Rögle beat another Swedish team, Frölunda, in the first of two games in the Champions Hockey League semi finals. Red Bull München and Tappare were supposed to play in Münich but that game was canceled ... Read more»